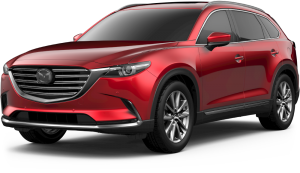 Are you in the market for a new vehicle or maybe planning a family vacation and need the perfect family car? Have you ever thought about a Mazda?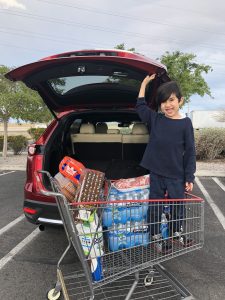 Thanks to DriveShop, I had the pleasure of test driving their new Mazda CX-9 for a week in exchange for my honest opinion.
Mazda hasn't been on my radar for awhile. Given I haven't been behind the wheel of a Mazda since 98. When I was younger I owned a Mazda Protege.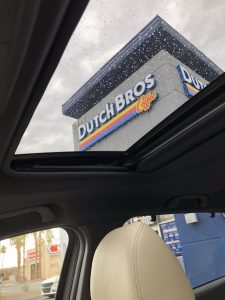 Now I must say Mazda has come a long way since the 90's, and they definitely did a fantastic job on there new 2018 designs. I was mesmerized with their sleek design, Napa Leather, Moon Roof, Third Row Seating, Commander Control setup, Sound system, Smart Brake Support, Blind Spot Monitoring, Lane Departure Sensors, and Highly impressed with the power the vehicle had.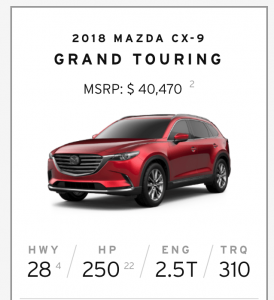 I often feel as though SUV's often struggle when you have to step on the gas, especially when you're at the stop light or even when you're entering the freeway and you have sped up to the flow of traffic. I was personally was amazed by the power, given the size of the vehicle. It did not affect the speed and it was able to enter the flow of traffic without me having to step all the way on the gas pedal. Giving you more Power for your buck, thanks to Skyactiv Technology!
SKYACTIV® TECHNOLOGY: In every car Mazda makes, they focus on responsiveness and driving enjoyment, allowing the CX-9 to stand out from the competition with outstanding driving dynamics.
MORE CONTROL WITH LESS EFFORT
TIMELY TORQUE
CLEANER, MORE FUEL-EFFICIENT ENGINES
ENGAGING, RESPONSIVE TRANSMISSIONS
STRONGER, LIGHTER BODY AND CHASSIS
MAKE THE BIGGEST IMPACT ON DRIVING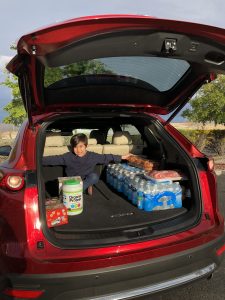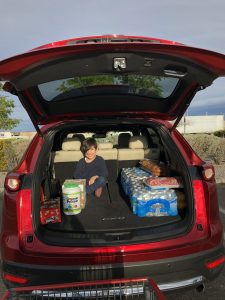 ROOM FOR ADVENTURE: The 50/50 split third row and 60/40 split second row give you plenty of ways to make room for all your cargo and passengers. Or fold both rows down flat for up to 71.2 cubic feet of storage. Looking to keep essential items close, but out of the way? Stow them in the hidden storage in the console, center armrests and glove box, along with seatback pockets and door-panel bins.
I was definitely happy with the 7-passenger SUV feature. It had plenty of room for my family and even our guest. We needed the extra seats to pick up our guest, to attend the Monster Jam event.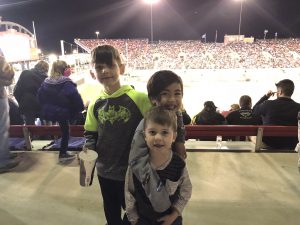 Luckily The Mazda Cx-9 saved the day with their 3r-row seating. My Niece was having car issues and needed a ride for her and the kids. We heard no complaints on lack or room or discomfort. The kids definitely enjoyed the seats and I loved the Napa Leather.

Even with its sleek low roofline, this stunning full-size SUV still offers more volume and more second- and third-row legroom than the Acura MDX or Toyota Highlander. Accessing the third row is simple, making it easy for kids to climb in—all without needing to remove an installed child seat.
Overall, I had a lot of fun driving the Mazda CX-9, it was definitely an SUV I could get used to driving on a daily basis. Not only has Mazda proven to be a spectacular performance vehicle. It had a lot of safety features that could be beneficial to you and your loved ones. Here are a few impressive features.
When traveling at speeds between 2- 18 mph standard Smart City Brake support helps detect objects ahead and prepares your vehicle by adjusting brake pads closer to the disc. If no action is taken, the brakes are automatically applied.
Advanced Blind Spot Monitoring
Standard Advanced Blind Spot Monitoring helps detect objects in your blind spots and alerts you with a chime and warning light in the side mirror. It also detects and warns you of fast-approaching vehicles that may enter a blind spot.
When traveling at speeds above 10 mph, available Smart Brake Support helps detect objects ahead an warns you when braking is immediately necessary. If no driver action is taken, the system automatically applies the brakes.
My Overall favorite feature that I would depend on and use all the time is the front sensors and the backup camera. This feature is great for parking, you do not have to worry about backing up into something or someone. I also do not have to worry about running into the garage door when parking in the driveway. This feature will definitely help anyone who has a hard time parking.
I highly recommend stopping by your local Mazda Dealers and test driving this wonderful SUV.
6525 Centennial Center Blvd Las Vegas, NV 89149
6950 W Sahara Ave, Las Vegas, NV 89117