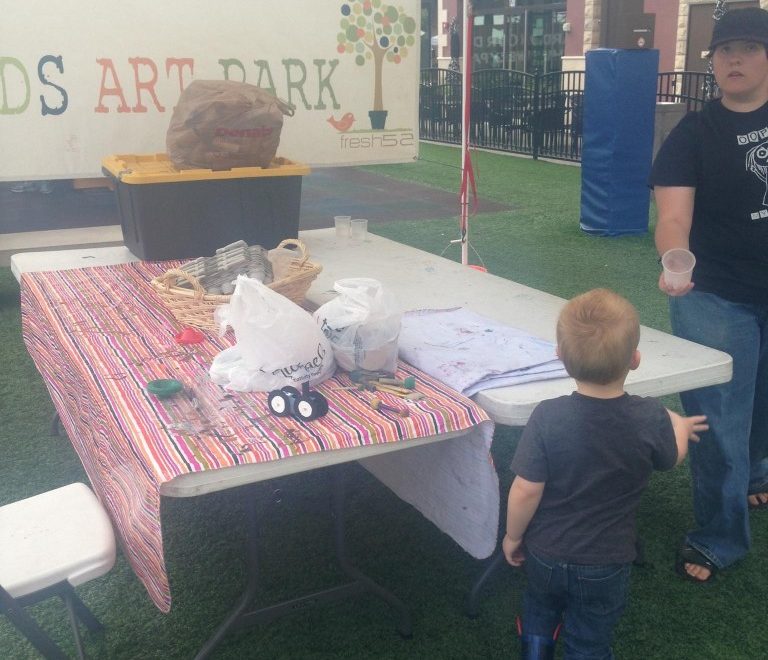 Are you looking for a fun way to get your kids to try fresh veggies? Would you like  a fun spot to meet up with other moms at the playground? I have to say that the
fresh52
 Farmers and Artisan Market at
Tivoli Village
is outstanding! Since my son and I discovered it we go almost every Saturday (9a-2p)
The streets are filled with tons of local vendors with all kinds of goodies: homemade cookies, jams, butters, oils etc. From local honey, vegan treats, and artisan bread to jewelry, lotion and freshly pressed juices. Peruse street food, kettle corn, vegan tacos, homemade lemonade, not to mention tons and tons of fresh organic fruits and vegetables from small scale farmers. Each week a featured local musician plays for your kiddos to dance.
That's all great but how to enjoy a farmers market and shopping with a 3 year old? Wear them out! They have a fenced in playground! Inside, the kids can have their faces painted for donations and there is also 
Kids Art Park
featuring a different art project every week to get kids painting, crafting, gluing and hanging out with new friends. They are on a volunteer basis and have great project ideas including seasonal picks such as Father's Day & Mother's Day crafts. As a major bonus, Monica is so friendly! For you homeschooling mamas and dads this is the perfect place to meet up for groups or to connect with fellow
parents. I have even seen a mommy jogging class. (It's super inspiring to watch these ladies jog around the square pushing strollers – you should see the kids faces: they love it!)
If you want to sit down and enjoy some homemade crepes, The Crepe is a toddler friendly restaurant. They have an entire play section filled with puppets, art, blocks, trains anything a little boy or girl could want to do and they occasionally have story time. Stop by for a menu and their schedule. They have so many offerings for a kid-friendly meal day or night. The food is amazing! Whether you like sweet or savory – it's a treat. Everything is made to order fresh and the environment is hip, industrial at the ground floor level of Market LV.
Although my toddler loves to go on the escalator more than the slide at times… Tivoli Village has so many fun things to do at their farmers market on Saturdays. I hope you will bring your little ones out, meet your neighbors and support our local vendors!