***Big Thanks to DriveShop for providing this test drive vehicle in exchange for an honest review.***
First of all, I am a sucker for leather. Red leather in particular. I have no idea what this means about me, but I do know, when it comes to vehicles, it is a major plus in my book! The 2016 Mazda CX-9 Signature AWD is absolutely stunning – The curb appeal is really outstanding! Honestly, I haven't thought of Mazdas since the RX7 of the 80s. (So now you know how old I really am! And I apologize Mazda – I've missed a ton…sad face emoji) The CX-9 is sporty and classy looking all at once. LED taillights, headlights and signature grille, twenty inch alloy wheels, all-season tires, rear roof spoiler, power lift gate and privacy glass. It has the coveted Angel Eyes LED headlights also found on BMWs. My luxury vehicle aficionado friend was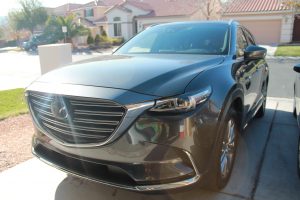 really impressed with this vehicle since he can appreciate the luxury selling points even more when they come without the luxury price point. The suggested price for this specific test drive is above $45K. Granted, this is probably more than what I would like to invest in a vehicle right now, but it only motivates me to research how well it ages. I'm not afraid of purchasing a used car and I'm also not above leasing a car either!
I think the crossover class of vehicles is really best suited for my family. After driving the Mazda CX-9 Signature AWD for one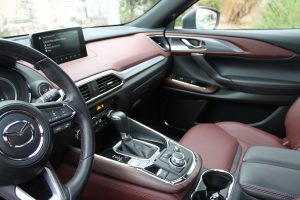 week, I now find myself wanting to test drive every crossover vehicle available in the Valley just to convince myself that I don't want to buy a CX-9 for our family! It really blew my mind – Super impressed, Super surprising. Maybe it's the third row seating, maybe it's the heated seats, maybe it's the leather. If you've read any of my reviews, I'm all about the leather: the smell, the look, the ease of cleaning (Yes, I find it easier than cloth! Way easier…)
I was really surprised to see third row seating because in my mind, only a large minivan or a Suburban could seat seven. Two in the first row, three in the second and two in the way, way back. There is, however, a caveat: I installed my son's car seat in the second row. The CX-9 is a four door vehicle despite having the additional row of seating so getting passengers out of the third row requires the center row to be moved forward and the seat back to be bent forward. This is virtually impossible when a car seat is installed in the center. Since the seat back is split, I can see how entering and exiting would be easier with the car seat installed in one or the other side as opposed to the center. The back row seats would not be comfortable for passengers taller than maybe 5'4″ since leg room is limited. basically the second and third row seats split leg room. The kids will love it though: My sweet friend and CX-9 owner has a 7 year old and 10 year old twins who fight to sit in the way, way back! You can fold the third row of seats down and just increase the 'trunk' space. I do like that you cannot see into the back where groceries and other items would be packed away. The button to automatically shut the lift gate lights up so at night, there's no fumbling around for your keys or feeling around for the button. If you do use the third row for passengers, there are aluminum roof rails available.
I love the moon roof especially because my son has limited views being in a car seat so opening up the roof gives him more to look at too! The interior has Nappa-trimmed leather, both front seats are heated and adjustable with driver seat memory and lumbar adjustment. During the winter, heated seats are so necessary! aluminum and rosewood trim makes for such a luxury experience. There is an eight inch display for the rear camera and navigation system. It looks like a space ship cockpit in here! I love the Active Driving Display that projects my speed onto the interior of the windshield = genius! When I set the navigation, it also shows me the next turn of my directions – right there on the windshield = GENIUS!
My mom friend, Janel and I took our sons (ages 4, 5 = 1 car seat, 1 booster in second row plus snow parapher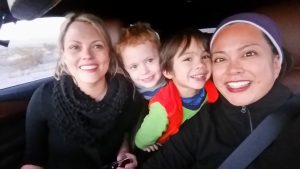 nalia in the trunk) in the Mazda CX-9 for a road trip up to Mt. Charleston to make snowmen and drink hot chocolate. Usually, I sweat the trip as my truck is not AWD and I have to pack as lightly as possible just so I don't have to be super embarrassed watching cars go around us as we climb slowly up the mountain. This time, we got to take scenic pictures, hear great music on SiriusXM over the crystal clear BOSE speakers and we even felt badly for a number of drivers we saw getting stuck in the snow (Janel even got out to help push one woman's car out of an embankment with another passerby!) I am not adventurous enough to have tried this loan vehicle in the snow as I am a firm believer there is a reason why snow tires are a thing!
More than any other vehicle I've test driven thus far, this is the one I can see myself owning and driving every day.
Overall, this has been my favorite test drive so far. It has all the wonderful features you would want in a new car with all the bells and whistles: including third row curtain airbags, rear door window shades, key-less entry, push button start, back up sensors, blind spot monitoring, rear cross traffic alert, smart brake system, lane assist, hands-free Bluetooth pairing, etc. There is a lot of competition since most vehicles will come equipped this way, but for me, this was the vehicle that most fit for my family. More than any other vehicle I've test driven thus far, this is the vehicle I can see myself owning and driving every day. I am a strange one since I have been wanting a minivan since I had my son. Yes, I'm a single mom. Yes, I only have one child. I do have 2 dogs though?! I'm also the type of person to basically packs like I'm leaving town when in reality, I'll be gone for the day. This could mean: a change of clothes for the gym, play clothes for my son after school, a file box of my son's latest drawings and school correspondence, after gym clothes, hot tub or pool clothes for the gym, random extra change of clothes for emergencies for my son or me because of something my son gets into. Depending on the season you may see: camping chairs, pool noodles, picnic blankets, a collection of recyclables from take out orders or reusable shopping totes. You could say I like my vehicles spacious! I love it! I want it! Someone gift it to me, please! Happy Driving, everyone!