*** I was provided a vehicle to test drive for a week in exchange for my honest evaluation. These opinions are my own.***
---
So much to love about the Hyundai Elantra! Our family recently had the opportunity to test drive the 2017 Hyundai Elantra SE. We are currently in the market for a new vehicle and this is great car for daily use. This vehicle is not super fancy (as in no sunroof, manual seat adjustments, no heated seats etc.), but it is safe, comfortable and great drive! Our Elantra has cloth seats which sort of made me nervous with a four year old. I feel like leather seats are easier to clean, in the event of a spill, or dirty shoes stepping on them, but luckily, we had no problems with that! I also limited what he was allowed to have in the test drive vehicle as far as food and drinks and put a towel down on the seat where he gets in. His toddler car seat fit in comfortably, installed easily, but adding a second carseat or adding big/tall adults on both sides would be a snug fit back there. Not to say it would be impossible, just not ideal for a longer road trip. Luckily, we live in Las Vegas where everything is about twenty minutes away!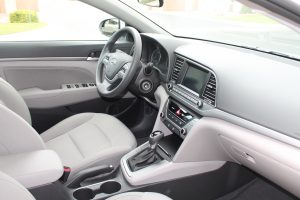 In addition to a 'normal' mode for driving, there is a sport option and an eco option. I did not have much opportunity to test out the sport mode since I use this vehicle for commuting to work, which is a thirty mile round trip at the most and run a few errands on some days. Being environmentally conscious, I ended up using the eco setting for most of the week. I wanted to know that the eco mode meant I would not have to sacrifice performance for reducing my carbon footprint. At present, I drive an SUV and I do my best to conserve mileage knowing how much gas I use and how that impacts our environment – it's rather embarrassing if we are being honest. (This is why I recycle – I have to offset somewhere!) I prefer to allow plenty of time for my arrival, even allowing for additional time in the event that there is traffic or an accident I need to get around since I do not like to be rushed when I am driving. For just normal, day to day driving, the eco setting works perfectly. I feel good knowing that not only am I limiting emissions, but I get more miles per gallon making my wallet happy too! The Hyundai Elantra is better than the average new car with gas mileage with 37 miles per gallon on the freeway and 28 miles per gallon in the city. I had a good mix of both so that combines to an average of 32 miles per gallon. So that means, with a fourteen gallon tank, I can drive to work and back without filling up about fifteen times! Does that make you happy or what?!
The best part about this vehicle is America's Best Warranty. You simply cannot beat Hyundai in this aspect. This is such an important feature as a busy mom who does not want to worry for several years about anything breaking to leave me stranded somewhere or figuring out how to pay for a big unexpected, but necessary expense. Their warranty is a standard feature!
Five years or 60 thousand miles for the New Vehicle Warranty
Ten years or 100 thousand miles for the Powertrain Warranty
Seven years (unlimited mileage) Anti-perforation Warranty
Five years (unlimited mileage) Roadside Assistance
***Limited warranties, see dealer for details***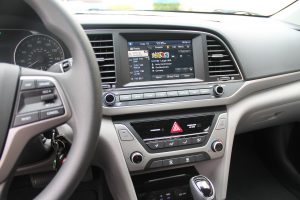 For safety, the Elantra has ESM (electronic stability control), VSM (vehicle stability management) and ABS (anti-lock braking system) with brake assist. There is even a driver's side knee airbag and curtain airbags. Just knowing they are there makes me feel secure. The back up camera is one of the best safety features especially in our neighborhood where kids play in the cul-de-sac and backing out of the driveway requires extra slow movement and complete awareness. It is also super helpful when exiting parking spaces in busy parking lots like at school and when shopping – Or if you just want to make sure you are properly centered in your parking space! I love using the Bluetooth feature for hands free calls and for my GPS from my phone also. Pairing with my phone is a breeze.
There is a compartment for my sunglasses for convenience and there are cup holders galore! There are two beside the shifter, two behind the front seat arm rest and one in each of the four doors – No room for thirst in the Elantra! The back seat does not have a dedicated center air vent, but the air flow from the front was plenty for my son. There are power windows, power locks, power side mirror adjustment and an a blind spot mirror inset on the driver's side. The remote key unlocks all doors, the trunk and has an alarm too.
There a lot of standard features that made me happy to be in a new car. I love cruise control especially since I drove from St. Rose Parkway to Floyd Lamb Park after driving from Ikea first. One feature I would have liked to have is electronic seat adjustments, but that is a tiny detail (I do not valet that often and do not share driving with anyone right now.) The Elantra is equipped with options to sync Android Auto and Apple CarPlay so I was happy to see my Samsung was welcome! Ha! As you may have read in previous vehicle test drives, I love SiriusXM satellite radio! When I am commuting to work, I giggle so much listening to the comedy stations. Other drivers must think I am nuts seeing me laughing out loud with no one else in the car. Use the in-dash 7 inch touchscreen (which displays the reverse camera) or change stations and adjust the volume right from the steering wheel – super handy! There is a USB plug and an auxiliary port as well as two 12V outlets right in front of the shift controls in a small bay that can hold mints and your garage door opener and can also be closed when you exit the vehicle.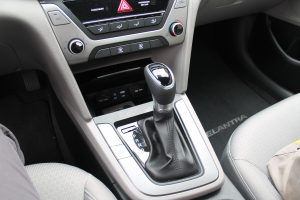 This model also comes with SHIFTRONIC although it is a 6-speed automatic transmission. SHIFTRONIC allows you to manually upshift and downshift without a clutch. There are even models with paddles on the steering wheel for shifting as well. Pretty cool, but I did not use that option. Mostly because I'm lazy, but I also did not think now would be a good time to try to learn it. I know how to drive a shift stick, but I would be looking for the clutch with this fancy new system and we live a pretty flat city…again, let's hear it for ease and comfort! That's right: Automatic!
The stereo sounds great with speakers everywhere (six of them!) and the center arm rest has deep storage too. You can play CDs or hook up an MP3 player or iPod. Let me tell you, there was not one friend who saw the Elantra that did not tell me they were huge fans! Even guys who are all about cars. I was surprised, I was impressed. It is a really good looking car! For a midsize car, I was expecting to feel really small since I am used to driving a much bigger vehicle, but this was not the case. I had to actually look it up to see what weight class it was to be certain. What a great drive…As you see it here, this model retails for about $19 thousand. I really enjoyed this test drive and I have a feeling when I buy a new car, my list of potentials will include the Hyundai Elantra! That warranty!!!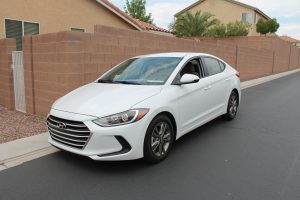 Here are our local Southern Nevada Hyundai dealers:
Please see the Hyundai website will have more information and to build your own Hyundai Elantra SE!!!