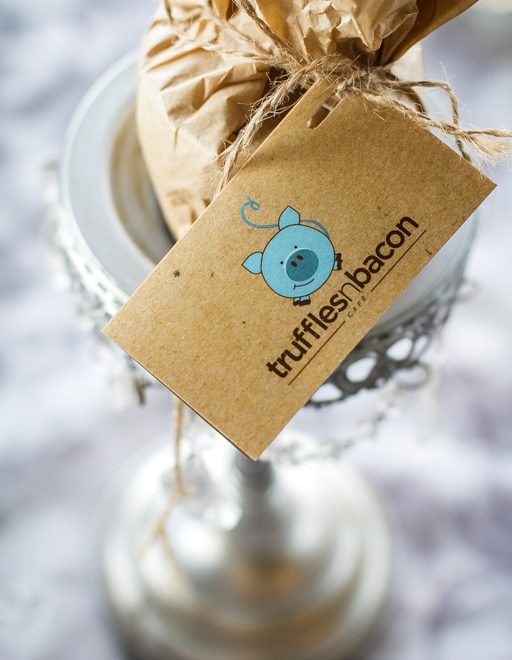 Welcome to my first sentence ever to post on a blog! I'm just a guest here. I don't know how guest blogging works really or how many more of these you'll see from me but I am so appreciative to Las Vegas Moms Blog for having me here. Blogging is fun. wheeeeeee!
When Cee Cee from LVM asked me to come to a private lunch tasting at Truffles N Bacon AND write about it, I almost flipped. I think I actually squeed. The name Truffles N Bacon, in my mind, evokes images of smoky fat crisped bacon and indulgently pungent truffle oil, right? Nope! I was totally wrong and super okay with it. Think sweet pork and chocolate with a little bit of South Pacific flair. Truffles N Bacon Cafe namesakes are attributed to their award winning bacon jam and their chocolate truffles. The chocolates are pretty self-explanatory: little rolled balls of chocolate covered in things. Simple and delicious. And then their bacon jam, so complex and versatile, they can (and do) put it in nearly everything. In fact, two of the foods that blew me away were dishes that both boasted the jam.
Our hostess, Magnolia, had prepared us a gorgeous French Countryside High Tea experience (sans tea.) Wild flowers floating in tea cups placed on floral chiffon table cloths next to 6 types of finger foods piled on porcelain hors d'oeuvre tiers. Each tier of food was labeled. The entrees: The Lucia, Kahlua sliders, Mad Bird and Not Yo Mamma Mac. And the dessert: Cocoa powder dusted chocolate truffles, coconut covered chocolate truffles and balsamic strawberries.
As the Instagram pros got up to start their photo shoot, I started swilling down water to keep from sweating and swearing in public: At that moment I hated myself for not ever taking up photography. I also had not eaten all day in anticipation of this tasting and I was starting to imagine fight scenes between lions and hyenas. After the sandwiches had been staged or "styled" and were taken away to be snapchatted, periscoped, and instagrammed, the writers felt comfortable enough to loiter around the tables and sneak away with plates of food.
I have a confession to make. Even though I tried and enjoyed all of the foods we tasted, there are two I really want to talk about and it's because they are, in my opinion, extraordinary. While the Mad Bird (the turkey burger with pepper jack cheese, roasted tomatoes, artichokes and sriracha avocado spread on ciabatta) and the Kahlua Sliders (slow roasted pork shoulder with tropical slaw on Hawaiian sweet roll) were lovely and delicious, I am in awe of Not Yo Momma Mac and I am in love with The Lucia.
Not Yo Momma Mac is THE unicorn of macaroni and cheese. It's the mythical mysterious mac that has eluded me for years. I knew something like it existed but could never find it….until now. This is nothing short of ambrosia. As if unadulterated mac and cheese wasn't good enough, TNB had the audacity to put pieces of brisket, kale and their signature bacon jam in theirs and thank the gods they did. I want to dump truck the entire dish in my mouth and drown in it. This is pure creamy, crispy, spicy, smoky, melty, sweetness. I have found the mac and cheese Valhalla. I can die now.
And yet, as magical as the mac and cheese was nothing compares to the Lucia. This is my love letter to a sandwich… I think about you my beautiful grilled cheese, aka my finger food soul mate, EVERY DAY. Cheddar, bacon jam, tomato compote, chipotle ranch spread an on grilled white toast. The smokiness of the tomatoes in a bath of chipotle and the sweetness of the bacon jam is everything I never knew I wanted. That sandwich did something to me. I find myself humming the Andrea Bocelli tune "Santa Lucia" throughout the day. I often think about making my own grilled cheese but then… it just wouldn't be the same. My friends say I am changed. I didn't realize I was empty until I had this sandwich. If it is possible for Tesla, one of the greatest scientists of the 19th century (and possibly ever) to be in love with a pigeon, then I believe it is possible for a 21st century girl, to be in love with a sandwich (especially in the current dating climate).
The bacon jam dishes should be enough of a reason to visit Truffles N Bacon Cafe, but if food isn't really your thing, they double as an art gallery and offer high tea service too. You just have to call ahead to schedule it. I plan on doing that soon. (I need to visit my boyfriend Lucia, anyway)
photo credit:
Erik Kastner and Arianna Domingo of Fifty Fifty Studios
LVM: Cee Cee Bautista
via Instagram: @happytummy_702, @ninser_the_foodie, @hei02miyachi
Truffles N Bacon Cafe
8872 South Eastern Ave, Ste 100
Las Vegas, NV 89123
702-503-1102
Follow Truffles N Bacon Cafe on social media!