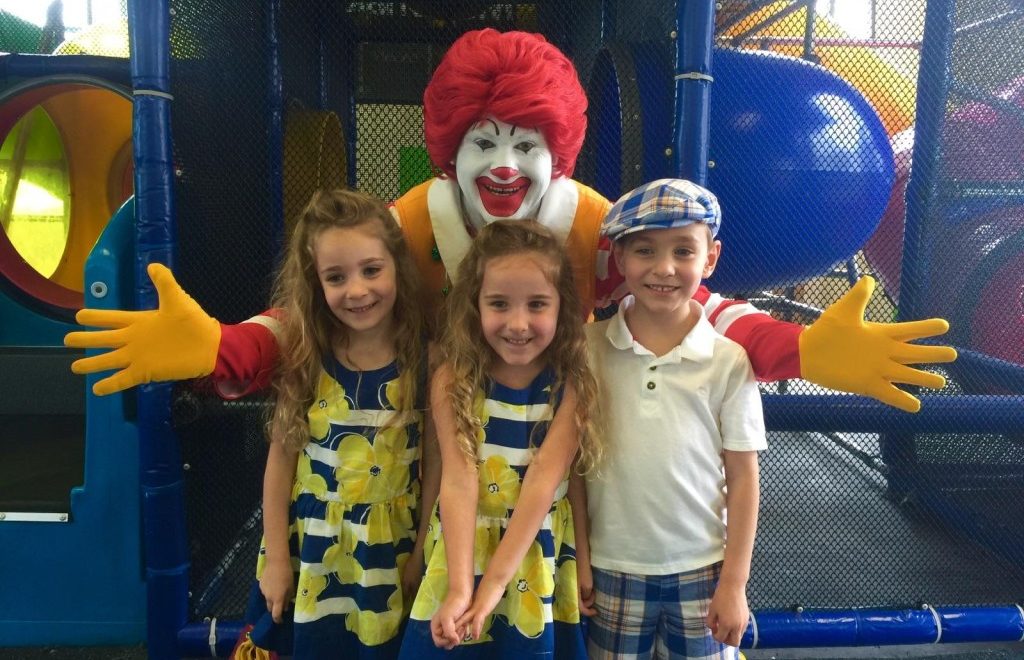 What are your fondest memories of food as a kid? You can't remember? Ok start out simply with: As a kid, what were your favorite foods? How about when your family goes out to eat: What kinds of choices are on the kids' menus? That's right, topping that list is burgers and fries…Oh and let me guess, chicken fingers?! It's no wonder why offering selections suitable for all the little people in your life follows an easily recognizable format of universal finger foods that are familiar to the little ones, with colors and flavors that are standard across the board. What a clever idea to include some entertainment for our favorite mile-a-minute-minds whether it is crayons or puzzles or cartoon characters & A TOY?! Prizes accompanying your food was no longer limited to cracker jacks or cereal boxes! Put it all together and what does it spell? H-A-P-P-I-N-E-S-S…That's right, the gold standard in keeping kids happy during meals can be credited to McDonald's!!! The Happy Meal has been maintaining the happiness quotient of family dining since the1970s!
McDonald's restaurants are easily the most recognizable fast food establishments in the world. I know I have talked about choosing the best healthy foods for your family, but this time, I'm talking about a special treat for everyone. So much about food quality and food prep has changed over the years (Buh-bye, trans fats!) and while fast food in general may not be best known for the health factor, there are definitely healthier choices available on their menu and even a sizeable selection of meals below 400 calories…You can order your Happy Meal with yogurt or apple slices or even Cuties! Oatmeal is on the menu, salads and bottled water. But, if you are like Heather & me, you know that a good cheat meal goes a long way & there is so much deliciousness, why waste a trip to McD's on 'health food' when they have Sausage McMuffins with Eggs, Big Macs, apple pies? My favorite as a kid was taking my Cheeseburger & lining up a layer of french fries inside it. I also add a hash brown to my breakfast sandwich…hmmm,
there's a trend here! Maybe that means I'm a weirdo, but you'll want to try it next time, I know you will! You'll have to let me know what you think!
McDonald's is an American family tradition. I look back on grade school and even high school remembering what a special treat it was to have a half day and get lunch with my mom and brother at McD's. Heather associates going to her great grandma's house with fun trips to McDonald's. When my brother was old enough to speak, he knew when the priest gave his final blessing, that was when he could shout out, "Let's go to McDonald's!" Local families own and operate McDonald's restaurants fulfilling the American Dream! There are women business owners, minority business owners – right here in our neighborhoods! In addition to serving super delicious treats, another way McD's serves the community is through Ronald McDonald House Charities(RMHC).
Scholarships are awarded every year. Last year, more than 100 high school seniors right here in Las Vegas received over $300,000 – That is outstanding! That translates to nearly $3 million in scholarships awarded through local and matching programs. Way to go, local owners and operators, what an amazing way to give back: monetary assistance for education is the best gift possible. It means a future. (Stay tuned for details on the Greens for Grads program, a single day event where $1 per Extra Value Meal is donated.) If you have eligible students in your family, don't forget to have them apply! CLICK HERE: Ronald McDonald House Charities Scholarship Program
The 11th Annual Running for the House 5K Run/1 mile walk takes place April 18th with proceeds to benefit the RMHC Greater Las Vegas.