What's in a name? The 2017 Mazda CX-3 Grand Touring is in a class called compact crossover or compact SUV. I know, Wait a minute! SUV by definition is a big, gas guzzler, right?! Compact SUV is a bit of an oxymoron, wouldn't you say? SUV stands for Sports Utility Vehicle. I have to attest – This is a sporty little compact vehicle, for sure! 'Utility Vehicle' – Now that's where I get a bit hung up on terminology. I immediately think Compact means tiny, no room, can't do much but get from point A to point B. I am not a fan of a small car unless it's a sexy two-seater roadster car that I just want to put the top down and take on long drives up the coast. But that sexy fantasy is not a day to day commuter vehicle. Why? That's easy: no backseat for my buddy's car seat, not cost efficient to require higher octane fuel, I wouldn't want my buddy to make the sexy, expensive car dirty or for me to waste my energy worrying about dings on the door, etc. Kids can be messy. (Though another of our moms has taught her kids to remove their shoes before getting in there vehicle!). How about a compromise: a smaller vehicle with a cool, sporty style 4-door that is easy to maneuver, is fuel efficient, can parallel park just about anywhere, has plenty trunk space, room in the back seat for a car seat (or 2!) and saves me money with great gas mileage – Enter the Mazda CX-3 Grand Touring…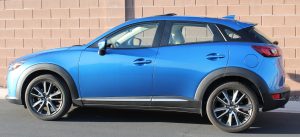 I reviewed the Mazda CX-9 Signature AWD and remarked that it was the coolest thing to have a third row of seating. Well, as awesome as that is, I really didn't use the 3rd row! It was just nice to have additional seating without being a full on minivan. Although considerably smaller, the Mazda CX-3 Grand Touring is actually a really great ride. It is just the right size for me and my copilot, JJ. (But maybe I need to compare them to the CX-5!)
The first thing I did was sync up my phone using Bluetooth which is so simple: I maybe pressed 5 buttons between the dash tablet & my phone. I love satellite radio and GPS navigation. The mounted dash display is gorgeous, simple to operate and easily accessible. I love that there so many memory spots for the radio too so I can easily switch between stand up comics, Coffee House acoustic guitar and 80s/90s music. I didn't look into it, but I hear updating navigation for some vehicles can be pricey. In that case, I'd rather use my phone app. It is an awesome app if it is updated and having the navigation projected above the dash means I am not taking my eyes off the road. Safety first!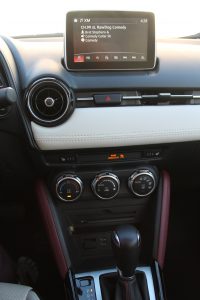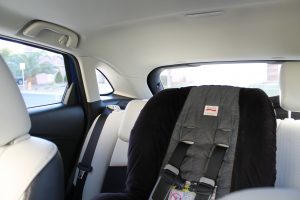 I was secured my son's car seat into the center of the back seat since there are anchors for a car seat to go on either seat. From the driver's seat, I can easily hand him his water bottle or snacks once he is safely buckled into the harness or to threaten him with discipline since he is in arm's reach. One caveat if you have a passenger in the back seat: There really isn't enough room for a medium sized human to sit comfortably on either side. You would need to choose a side for the car seat and a side for the other passenger. The car seat would need to also be on one side rather than in the middle if you plan on folding either seat down. The front seat provides plenty of room and would likely be the best place to put a taller passenger. Upon delivery, I had to adjust my seat a considerable amount because I felt super short in the car, despite how compact it is! The driver who dropped it off must have been a lot taller than me (which isn't saying much because I'm 5'2″!), but Wow – that's a wide range of adjustment available!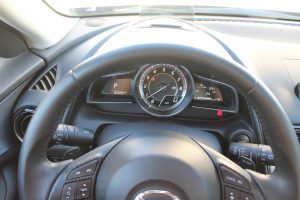 As a mom, one of the biggest concerns for most families is safety. Since it's a smaller vehicle, of course, it makes us big, tall SUV drivers feel a bit vulnerable. Well, Mazda hit it out of the park with 5 star crash ratings for both front and side impacts for the 2017 Mazda CX-3. The rating for a rollover crash was four stars:
https://www.edmunds.com/car-news/2017-mazda-cx-3-earns-five-star-safety-rating-from-federal-government.html
With all the safety features like sensors to notify you of cross traffic, rear cameras as well as (a safety package that includes) Smart City Brakes and lane change clearance, a lot of collisions can be avoided. Everyone can also exercise more caution when driving (this town can be very dangerous).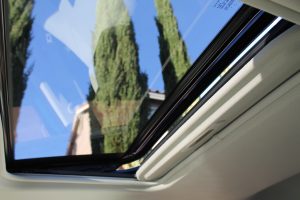 Aside from the many features of the Mazda CX-3 Grand Touring, what makes you decide to actually purchase a vehicle?! Are their deal breakers or must-haves that you have in mind to limit your search? I never realized how many options are out there… One friend who is also a part of the DriveShop program has her basic features that she appreciates: seat adjustment memory so she and her husband can switch drivers at the push of a button. Since I'm the only driver right now, this isn't a necessity for our family. I honestly don't even think about it! Although, when I valet or get the car washed, it's nice to go back to my exact seat adjustments! What scores big points for me is the safety ratings/features, the fuel efficiency, its resale value or the longevity of a car. I do care about curb appeal, having a the sun roof/moon roof, and what colors it comes in, but those are secondary thoughts. Having volume controls and tuning right at your finger tips is also very helpful. There are multiple cup holders which is nice, but 2 tall to go cups with straws in them do not sit well under the armrest in the front. There is no vents in the center like other test drives we have had, but the center air vent is strong enough to cool or warm my son in his car seat. I can just angle the vent on the left side of the steering wheel if I need more air flow. There is so much bang for your buck when it comes to the Mazda CX-3 Grand Touring. The fact that they are also priced at almost half of the price of the CX-9 is a bonus too (depending on the options selected, of course). Happy car shopping! Let me know what your must-have features are when you are deciding which vehicle to buy. Are their any deal breakers for you?!
* * * * * * * * * * * * * * * *
Big Thanks to Mazda for the opportunity to test drive their beautiful vehicles and massive gratitude to DriveShop for the opportunity to be a part of the program! I am really opening my eyes to many brands and so many different models that I did not expect to enjoy driving. I appreciate the subtle differences and yet it makes me realize what is most important! I hope you enjoy what I have presented and I am eager to hear your feedback!
CONNECT WITH MAZDA ONLINE
MAZDA DEALERSHIPS IN THE LAS VEGAS VALLEY
6950 W Sahara Ave, Las Vegas, NV 89117
702-637-4746
6525 Centennial Center Blvd , Las Vegas 89149
702-784-1100