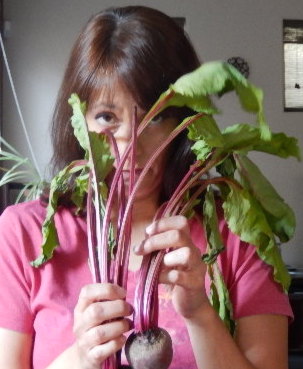 I am not at all someone who needs to be coaxed to eat vegetables. I might even be considered a FOV (Friend of Vegetables).
Asparagus? Awesome.
Sugar snap peas? So delicious.
Fresh tomatoes from the garden? Swoon.
But then there are beets. Just. Can't. Eat. Them.
Hey, beets, what's not to love about you? You are highly nutritious. You are a member of the chenopod family, which also includes chard, spinach, and quinoa. I love all of those foods. But not you.
And did I tell you are gorgeous, beets? With your ridiculously vibrant color. I want to love you. I do. I try from time to time, always hoping against hope that you will live up to your promise.
The best I could ever say is that you taste like sweet dirt. I'm sorry, that's probably mean. But it's true.
And yet, I kept trying to love you. Because you are good for me, and you are beautiful. And because you show up on the menus of restaurants I love. (Besides the recipe below, I have only ever been able to eat beets in the delicious salad called The Bizness – David's Special at The Bronze Café.)
So it was a great and welcome surprise that beets can work very well in muffins. I have been a fan of hiding incorporating veggies for my kids, but this time, I did it for me. And…these muffins taste great. Both of my kids really liked them, as well.
The batter is a shocking pink, but the finished product is not. (Science-geek-moms, why is that?)
I did not use whole wheat flour, but I have had good luck with substituting half whole wheat flour for half white flour. So it's worth a try, if you'd like to increase the fiber in these muffins.
Enjoy!
---
Beet-Carrot-Zucchini Muffins (adapted from The Kitchn)
Makes 10-12 muffins
1¼ cups unbleached all purpose flour
1 teaspoon baking powder
½ teaspoon baking soda
½ teaspoon cinnamon
⅛ teaspoon salt
⅔ cup grated carrots
½ cup grated zucchini
½ cup finely grated beets
¼ cup raisins
⅔ cup maple syrup
⅓ cup cooking oil
2 eggs
Preheat oven to 400°. Grease muffin tins, or line with paper liners.
Mix flour, baking powder, baking soda, cinnamon, and salt in a medium bowl. In another bowl, mix the grated vegetables.
In a large mixing bowl, beat maple syrup and oil until emulsified. Add eggs one at a time, beating until batter is smooth. Add flour mixture in three or four batches, mixing gently. Stir in the vegetables.
Pour batter into muffin tins. Bake approximately 20 minutes, until a toothpick inserted in the center comes out clean. Cool slightly before removing