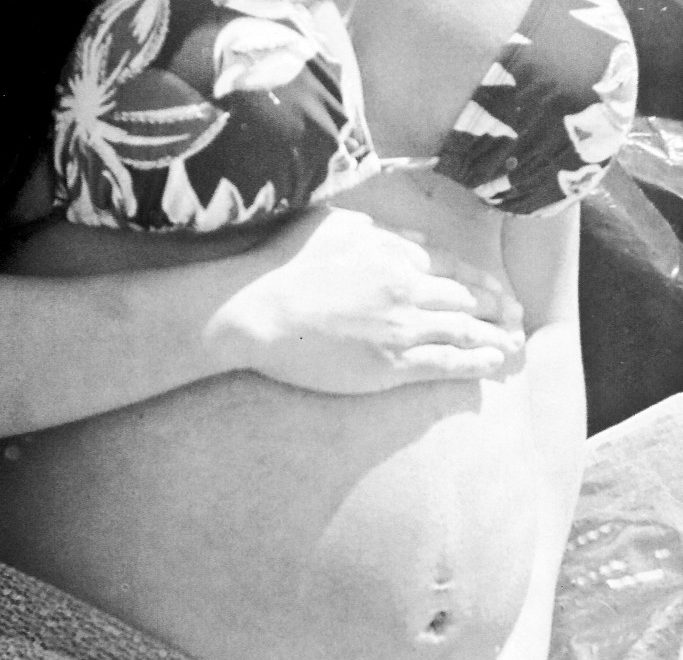 1. I knew REALLY early on (3 weeks) that I was pregnant. Among my earliest symptoms: My 2 pups followed me from room to room CONSTANTLY – They knew something was up.
2. I missed my 20 year reunion at my high school because I was expecting.
3. I was convinced I would prefer a C-section until I YouTube'd one.
4. Cravings/Aversions: I craved watermelon, watermelon juice (Rachel's Kitchen!) and papaya delights (papaya halved, greek yogurt, granola and honey). I think there was a three week period where I ate them daily.  I received an order of my absolute favorite coconut water, a brand from Thailand, found on Amazon. I dumped out three cans convinced it was rancid. I had two friends try them and neither of them knew what I was talking about. I gifted them the rest of the case. I still have trouble drinking coconut water to this day!
5. While at work, I was 31 weeks and 32 weeks respectively when I was exposed to Parvo B19 and possibly cryptosporidium. In
both instances, guests were allegedly infected and posed a possible exposure to me and my baby. I was on the CDC website constantly!
6. I told my best friend that I had no stretch marks and that I was astonished to be part of that 10% of the population that doesn't get them. I found my stretch marks after I gave birth-Lol! "Oh hey, there they are…"
7. I did not want to know the sex of my baby before birth. At delivery, my OB/GYN placed my son on me so I could see for myself!
8. I was happily obsessed with my pregnancy & read so much about what was going on that I neglected to read up on what to do once my baby arrived. I had to YouTube how to bathe a newborn.
9. I began to efface at 14 wks. My High Risk MD wanted me on bedrest, but declined my request that he pay my bills (lol!) I meditated constantly focusing on holding steady so I wouldn't need a cerclage. Instead, I managed to thicken back up! I didn't know that could happen! I delivered at 37w 3d.
10. I didn't tell many people I was expecting. My coworkers didn't really know until I was past the 6mo mark when I began wearing form-fitting tops.
I miss my belly all the time. At first, it was every day-it was much easier to keep track of my little one then! Now, I am soaking up every moment of my toddler's adventures – I always wanna be around my son! #BestGiftEver