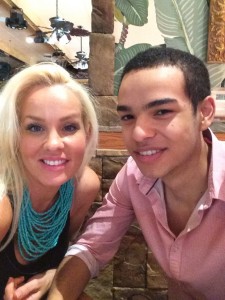 On Mother's Day I had made reservations to go to one of my favorite brazilian steak houses, Samba. Well to my surprise, I found out they do not allow children under 5 to dine in the restaurant . To make it easy I picked our closest Cuban restaurant, Havana Grill.  I have always loved Havana Grill, but earlier I had told my children that we were going somewhere very fancy. When we arrived at Havana Grill my four year old son got a disgusted look on his face and began to cry. I asked him what was wrong and he said the place was not fancy. I tried to convince him that, Yes, it was fancy. He started waving his arms around and saying, "Look! Just look at this place! This is not fancy! Even look at their paintings!" I was completely shocked! My husband and I had a hard time not laughing. Even though he was being a complete brat, it showed me that even snobbery is passed through genetics. You see, my husband only likes fancy places too and since I am the one who is with the kids most of the time, they don't have much opportunity to have that trait rub off. Throughout dinner,  my son
kept his disappointed face on and the rest of my four children went about and enjoyed their night out at an unfancy dinner.  The restaurant's decor is actually very cute. It really is not that fancy but more like something you might find in a Cuban neighborhood in Miami. It's has a little bit of a tropical theme going on with lots of ceiling fans that are shaped like leaves and old rustic looking Cuban paintings. It's definitely not a super dressy place. It would be totally appropriate if you went completely casual to a little dressy. I always border on too dressy everywhere I go, but that is just how I feel most comfortable. The food was good as it has always been. I actually love the vegetarian plate which just consists of black beans, white rice, and fried plantains – so simple, but it is done just right.
All of the kids got Cuban style sandwiches and my husband had a chicken dish. I also made sure to order a mojito! Their mojitos are pretty much what I would expect, nothing too special, but just a classic mojito. The night we went, they were definely running behind and our service was slow, but what can you expect on Mother's Day? Besides, we were in no hurry – we were having a great time. I recommend this place to anyone who enjoys Cuban food or is willing to try something different. Also this place is completely kid-friendly, and even though my little guy thought it was not fancy. it is actually very cute with a true Cuban feel.