Over ten years ago, I made the conscious decision to purposely choose cleaner whole foods whenever possible. At times, it can be challenging to always find new, innovative ways to present whole foods. I can barely put forth the effort to mix up my own trail mix let alone prepare something that would take any more time than reaching into my fridge! Who are these moms with extra time to create new whole foods or paleo-approved snacks on the go? Not this mom! I have a great solution to this dilemma: I was approached by the team over at Mad Macro to give their protein bars a try in exchange for my honest opinion. I am so thrilled they reached out to me!
Mad Macro makes cereal in addition to their protein bars (which look super delicious, I will definitely be ordering them!) I have tried only their protein bars so far… But I cannot wait to order their protein cereals! Yes! Protein! In a cereal!
About the bars… To me, these protein bars sort of resemble single serving pouches of almond butter ground up with other seeds and nuts with a super thick, solid consistency. It is recommend the bars are stored in the refrigerator and then allowed to sit at room temp for about an hour before eating them. I knew my first meal would be high quality nutrient-dense to set me up for a great day! I like these for an afternoon snack too. Products by Mad Macro are grain-free, dairy-free and paleo-approved.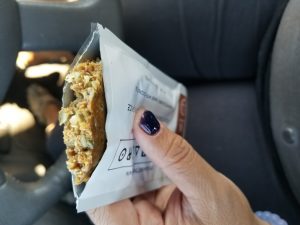 As for taste, they have a number of great flavors: Pumpkin Spice, Salted Chocolate Almond, Walananna (walnut + banana), Protein Brownie and Cocomoco (coffee + coconut). They are not really sweet or overly chewy like a lot of the other bars available in stores. I would say the taste grows on you. I like that I can really taste the pumpkin seeds and the salt complemented the chocolate perfectly. It is subtle, but extremely effective. I am a huge fan of coconut oil for the plethora of health benefits, but that flavor is extremely light, if noticeable at all. They do not crunch like a granola bar or taste like a candy bar at all, the way a lot of protein bars taste to me. I would say it is like taking a nutty, seedy trail mix, and making it into a nut butter. Genius! I like them a lot, but it takes a few bites to get used to the taste and the consistency. Since it is all natural and grain free so I felt good knowing it is not processed or chock full of grains. It is dense and has a filling effect since all your nutrient needs are being met. They can be a bit messy though. The natural oils, like what you see at the top of almond or peanut butter can spill out, so have a paper towel wrapped around it if you decide to eat it in the car, especially. On the go means I can eat it wherever I am. These hit the spot for sure: I felt full, satisfied and was really happy to have a macronutrient balanced breakfast! I felt like my brain functioned better and I didn't feel the need for more coffee.
I just know my healthy, fit mom friends will really like these and appreciate their existence! We should all be concious of and concerned with the foods we feed ourselves and our families. Time to take back our health! At 260 calories, they pack in 15 grams of protein and only 10 net carbs! These Mad Macro protein bars also include collagen (grass fed cows, sorry vegans!) so say hello to youthful skin too! What's more is they are a local company right here in Las Vegas. You need to try Mad Macro! What are you waiting for?!
What is your favorite breakfast on the go?!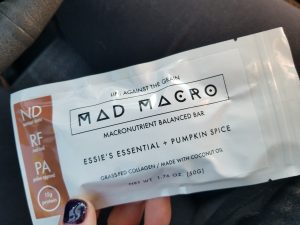 Try these bars and let me know what you think!
Instagram.com/livemadmacro
Thank you to the awesome team at Mad Macro! I am definitely a fan for life! Mad Macro protein bars are a welcome addition to my health and beauty regimen!