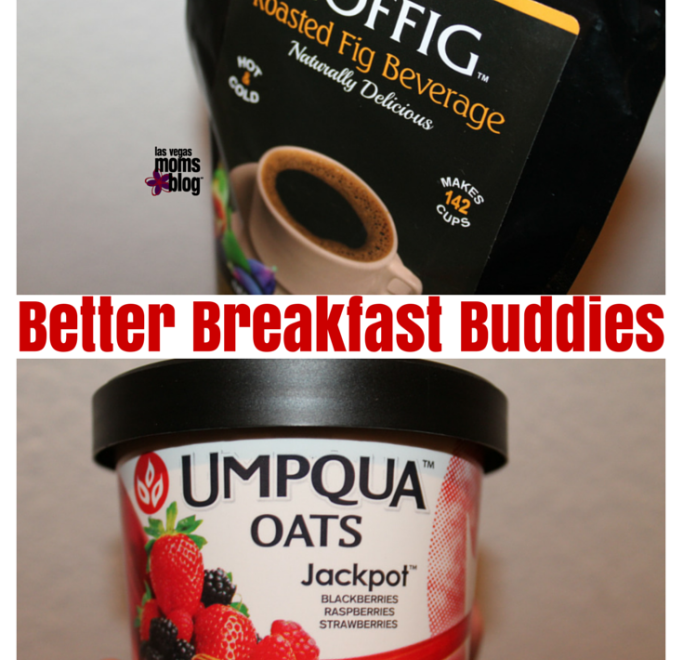 We had a mama meet up in the park this weekend! It was so great to enjoy this gorgeous weather we are having outdoors, with friends, old and new…You know me, all about the food and luckily I surround myself with like-minded moms. We had an opportunity to taste and review COFFIG Fig Coffee and Umpqua Oats for the Better Breakfast Challenge! Thank you, Tryazon! 
***LVMB was not paid to promote these products, but we were provided with samples to taste test!***
COFFIG is a coffee beverage made of fig! The second you open the packet, you are embraced by the delicious roasted scents of fig and coffee. I was unaware that coffee could be made from figs! Figs are delicious, perfectly sweet (and actually, growing in my backyard)! I never thought coffee in a fig flavor was even a possibility or even if it was a good idea so when I heard about this creation from Oregon, I was definitely interested in giving it a try. There is no caffeine, but a natural energy boost was promised. The first question all of the moms thought was, is this going to make me spend the day in the bathroom? The quick answer is No!
Since it is made from figs, people think they would have digestive benefits and that maybe too much fruit historically is known for helping you move food through your digestive system. It actually tastes great. I personally like stronger tasting coffee (taste, not necessarily something more caffeinated). I had to try a few times to get the right taste for my preference because too little grounds made it more of a tea than a coffee. It tastes great and especially for moms who are nursing or pregnant, it is a perfect decaf option! You have to try it…I personally did not feel much of a rush of energy the way caffeine in coffee affects me, but I also know that I do prefer to limit my caffeine intake since I get migraines. I know, it is like going against the mom-code of the Starbucks IV Drip Club! Ssshhhh…don't tell on me! This is a great option on the weekends when I don't need a caffeine boost or in the evenings when coffee sounds good, but staying up all night jittery doesn't. I had this the next day over ice and it is just as delicious.
Umpqua Oats are a LOCAL BRAND! Yes, my local Las Vegans, you will not only buy the best tasting breakfast for at home or on the go, but this is actually a healthy meal to start off your day AND you are also SUPPORTING LOCAL – That's a trifecta, my friends! I first found this yummy breakfast about a year ago while at a drive-thru coffee stand (Moment of silence for the missing Human Bean in the Southwest Valley). It is ready made and all you do is shake up the contents a bit & add hot water. Let it sit for three(3) minutes – et voila! Breakfast in your car…Or breakfast at home for a hungry picky eater all of two years old. There are several flavors available for purchase. We got to try Vanilla Almond (a more traditional oatmeal/granola flavor), Sea Salt Caramel (a dessert breakfast!) and Jackpot – which is probably my favorite of the bunch since it includes fruit and nuts…and because it is called "Jackpot" = So Vegas, So Genius! The kids actually like it too! That day, we had babies between the ages of 3 months and 13 years. Fans all around! OK, we didn't actually feed oatmeal directly to Nicole's son, but it is safe and healthy (way to go galactogogue, oatmeal!) for nursing moms too…If this isn't enough, we contact Umpqua and asked them to be a sponsor – that's how much we love and adore them! Umpqua is also made in the USA, GMO free, whole rain certified, Kosher certified and no gluten ingredients are used. I know all my foodies with sensitivities can now eat a healthy, delicious meal! ***They contain nuts so, as always, please use with extreme caution when allergy sufferers are present!***
Cheers to a Better Breakfast!
Big THANK YOU to Panera Bread(89148) for helping me take this taste test on the road. The tea set up I bought was also delicious! I appreciate the help out to my car too, Mr. Manager, Lucas!
I have coupons up for grabs and a prize pack of Umpqua Oats for a randomly selected reader/commenter – leave your questions or thoughts below!