Community
,
Date Night
,
Events
,
Family
,
Kid-Friendly
,
Las Vegas Kids
,
Live Like a Local
,
Moms Night Out
,
Reviews
,
Staycation
,
Support Local
,
Things To Do
,
Tweens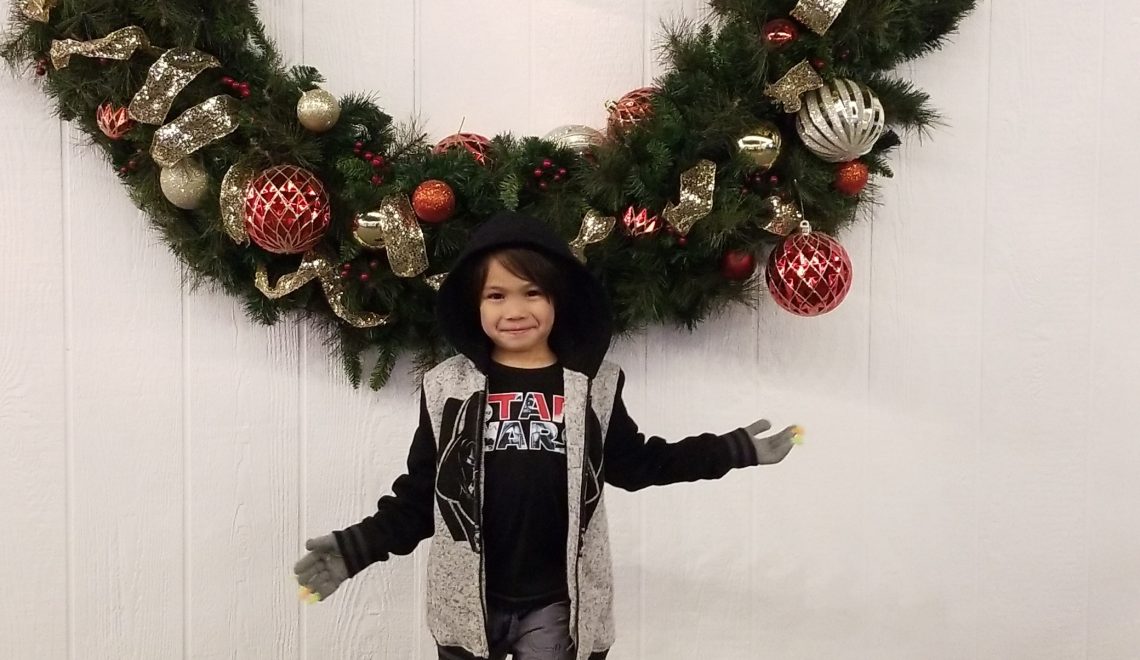 Green Valley Ranch Resort gifted skate rentals and also a fun swag bag for our family to try the new outdoor ice skating attraction, Winter's Village in exchange for our honest review. Enjoy!
Tucked in the corner of the Green Valley Ranch property is a winter wonderland with a lovely setting for an ice skating, s'mores building, family-focused experience. We love the upcycle of space usually reserved for the vineyard or small concerts. Larger than life ornaments, palm trees adorned with Christmas lights and topiary signage create a festive, classy escape.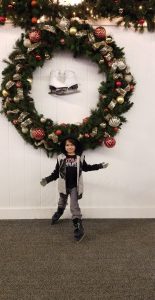 There are fire pits, cozy seating, bean bag toss and for mom and dad: boozy drinks to keep you warm from within. It is super cold these days and gloves, scarves and hats are a definite necessity! So much so, you can even purchase gloves at the concession stand… but consider wearing socks that are not only warm and long enough to cover ankles, but thicker and cushy since I overheard several would-be skaters mention their ankles hurting from the skates. I personally was Ok with the skates, but did not have them on long. They are not as comfortable to me as the ones I've worn at permanent skate centers, but way more comfy than ones I tried at another pop up, non-ice, skating place.
Rentals are $20 per person and the trick is to find a pair that fit you just right. They are not the lace up variety, rather more like ski bindings. They didn't have the cheater walkers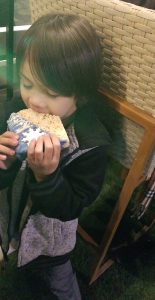 to help novice skaters, but a lot of folks seemed like beginners so there is no intimidation factor whatsoever. Even my son who has been ice skating only a handful of times was confident enough to go around the rink without me holding his hand. I felt he was more at ease seeing adults having to hold the railings to make their way around. The music was a major motivating factor too as he attempted to ice skate dance to his favorite Christmas music.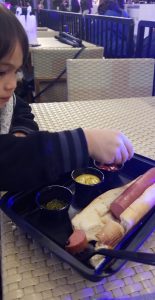 There is no entrance fee to visit Winter's Village so even non-skaters can enjoy the holiday music, the hot chocolate and a gorgeous view of the ice skating rink while huddled beside heaters. You can also bring food from GVR out to the pool if you want something more than nachos, hot dogs, chili and desserts like rice crispy treats and reindeer chow.
We love it so much here! You really do need to bring all of your our of town guests here – Especially those who think living in the Las Vegas Valley is all about clubs and gambling; They will forget they're here! If you are looking for dozens of stunning holiday photo backdrops, and a less crowded location, this is going to be your favorite spot this winter! The hours extend when the kids are out of school for winter break too, so make your plans to visit! Tag us in your pix so we can see how much fun you're having – We may just repost you on our pages!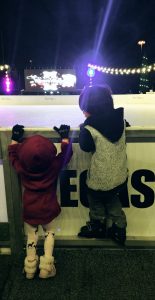 Thank you again to Vegas Lifestyle Influencers @vegaslifestyleinfluencers and Green Valley Ranch Resort @gvrcasino for the opportunity to try out your new holiday attraction. I hope this is the 1st of many years offering such a fun family-friendly experience for winter! We already love the pool during warm months, now it is a place to visit in the of season too!