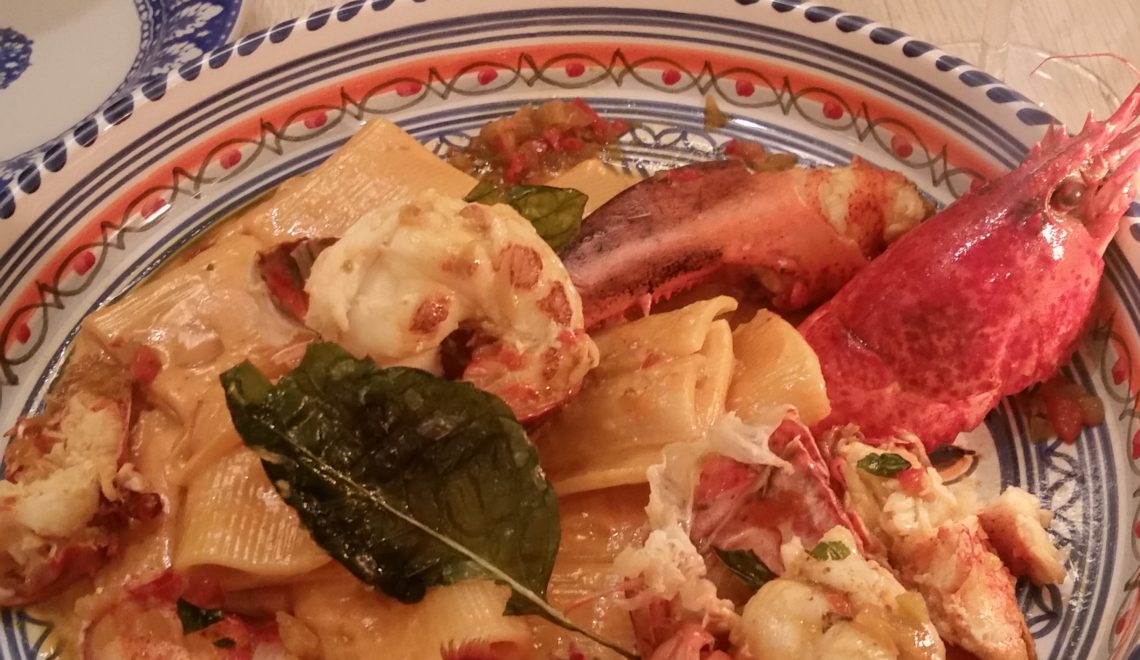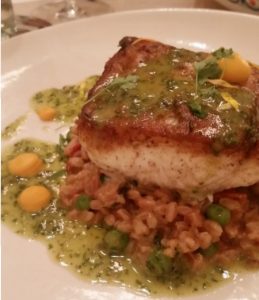 Fitting that Bottiglia ( pronounced boh-TEE-yah) means "bottle" because even if you don't go for the food you will want to be there for the drinks. Styled as a European yup-scale 1960s farmhouse chic restaurant it's the perfect blend of retro elegance and modern touches. I could not help but imagine Audrey Hepburn here; Breakfast at Tiffanys? Brunch at Bottiglia! Picture a gastro pub that has been white washed, studded with reclaimed wood furniture, pastel fabrics, geometric chrome accents and sporadic wicker whimsy. They must have designed their drinks according to their decor. YES, I want my bellini to match my plush peach seat and YES, I would love for you to make my white sangria smell like the bouquet on the back of my chair damnit! And YES,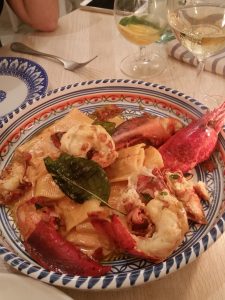 I want my Malbec to be inspired by my velvety fig colored booth. Pinks, peaches, plums, gold and robin-egg- blues? I'll drink all of it please…….Oh and I'll be waiting for my drinks on the wrap around terrace if you don't mind, thank you. I know what you are thinking: this sounds all very…… feminine.
Don't let the décor fool you though the fine dining side of things could impress the likes of Anthony Bourdaine. This IS a fancy Italian restaurant and they've got the Lobster Fra' Diavolo to prove it. I think we can all agree, Italian cuisine is all about love and you can tell where Chef Patrick's heart is: The sea…. The sea of love….. I want to tell you just how much… I love his Halibut….. Among other things. One word ANTIPASTA. Their mastery of wood-smoked eggplant spread is only surpassed by their straight up ownership of lemon ricotta stuffed zucchini blossoms. The tuna carpaccio blushes as deep as the beets in the roasted beet salad. The chopped salad is nothing short of an orgy of tart, tang and sweet kiss of green grapes. The eggplant parmesan? Miniature like a ballerina and just as 'en pointe' ( sul punto in Italian) If you want to get some romance get intimate with the appetizers. You'll go home satisfied.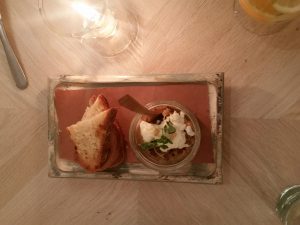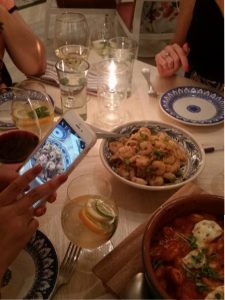 But let's get back to that Halibut. You put a piece of fish in front of me and all of a sudden I look like teenager that just had her first drink. I giggle, I wiggle and smile. Most sushi chefs think I'm flirting with them. Maybe I am and I don't realize it, but if I am, it's only because I'm part penguin. For that reason, the Pan Roasted Halibut spoke to me, even though I don't speak Italian or even understand most Italian, that fish and I understood each other. It knew I would adore it no matter what. But the condiments and garnish excited me more than the fish by itself. The fish was laid on a bed of faro (thick fluffy grain) with a water color green butter sauce, dollops of carrot puree and then the peas (ohlordthepeas!) The peas were short spring inspired love poems, each a pleasurable burst inside my mouth whispering sweet nothings to the fish.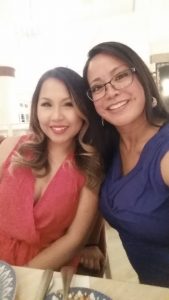 They didn't have to bring anything else out. But they did and to be completely honest The Shrimp Puttanesca and the Lobster Fra' Diavolo could have their way with me too. I KNOW I sound like a cheating foodie perv but if I could have a menage`a trois of fish shrimp and lobster in one sitting every time I dine at Bottiglia….. I WOULD. Both the shrimp and the lobster are equally spicy and beautiful. While sexy in name, puttanesca, meaning whore's pasta, in Italian has become slang for "a bunch of sh*t in the cupboard goes in the pasta". Classically, you need the capers and olives to kick the ever loving crap out of you in order to make this dish a success, which is what made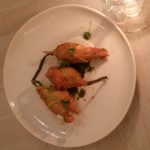 this my favorite of the pastas, because capers are my life. The creamy pink sauce on the lobster though was seriously indulgent. It was almost like a deconstructed lobster ravioli. But a warning: if you don't like you food to look at you, request the face to be removed cause you get the entire lobster.
Dish after dish was placed and removed by what seemed like six different super models which made the dinner feel like a seduction. If I can't be seduced in Italy then I'll gladly take a little Italian seduction in Henderson. So…. while I'm in the mood, I'll tease you with some dessert. I'll give you some hints: one melts in your mouth and the other was filled with fun ….. I'll leave the rest to your imagination… Bon Apetit!
Reserve your table today: Bottiglia at Green Valley Ranch ***BRUNCH SERVICE BEGINS SUNDAY 28 AUG 2016***