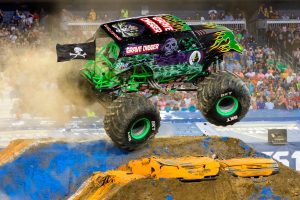 Monster Jam is just around the corner and it's definitely going to be an epic experience for the family. I am definitely excited to see all the spectacular stunts and races. I have to admit this will be my first time attending this event. Click here to check out their full schedule. Be sure to scroll down for the bag/purse policy and construction traffic.
Friday
Pit Party: 2:30 pm – 5:00 pm
Gates Open: 4:30 pm
Parade: 5:00 pm
Showtime: 6:30 pm
Saturday
Pit Party: 10:30 am – 5:00 pm
Gates Open: 4:30 pm
Parade: 5:00 pm
Showtime: 6:30 pm
Check out these awesome: TIPS
Venue Bag Policy: Please arrive early to allow ample time to enter the pit party and stadium. To provide a safer environment for our fans, Sam Boyd Stadium has implemented a clear bag policy. Please refer to Sam Boyd Stadium's updated bag policy which can be found at the following site: www.samboydstadium.com/event-services/bag-policy
Construction Notice: Due to Project Neon we encourage fans to leave early as lane closures may increase travel time. If you can avoid the US 95/I-15 interchange upon your commute to the stadium we suggest you do so. Visit ndotprojectneon.com for more up-to-date information.
If you have tickets but can no longer attend the Monster Jam World Finals, easily sell your tickets on the official Monster Jam World Finals-ticket exchange at PrimeSport.com.
If you purchased the Double Down package, don't miss the BBQ during the Pit Party. Included as part of the Double Down package, the BBQ is open 12:30 – 3:30 pm.
The best time to get autographs of your favorite drivers is during Friday's Pit Party prior to 2:00 pm. Historically, the first half of the Friday Pit Party is the quietest all week.
March is a busy travel month in Las Vegas, so book your flights early before costs go up.
Special hotel room rates are available through our host hotels. Book your rooms early to secure a room, but feel free to shop around as prices tend to fluctuate.
Looking to avoid the stereotypical "Las Vegas" hotel atmosphere? Look for hotels in Henderson or off Boulder Highway. There are multiple hotel options that offer family- friendly amenities, plus a shorter drive to Sam Boyd Stadium. One such option is our host hotel, Sunset Station.
Want the stereotypical "Las Vegas" hotel atmosphere? The Las Vegas Strip has plenty of options, including our host hotel Harrah's.
Save money and avoid traffic frustrations by taking the free shuttle buses from the LINQ Promenade. The LINQ Promenade is next to Harrah's.
Official Monster Jam World Finals travel packages, including tickets and hotel accommodation, are available exclusively through PrimeSport.com.
Planning to attend both the Friday Racing Championship and the Saturday Freestyle Championship? Get better seats and save money by purchasing the 2-Day ticket rather than individual tickets for both days.