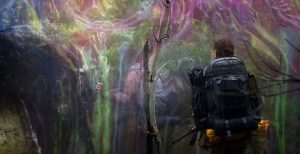 New Movie Alert, I've been seeing a few trailers circulating on Facebook and couldn't help but be intrigued. I was a bit fascinated with this new sci-fi and did a little research. The movie is based on acclaimed best-selling Southern Reach by Jeff VanderMeer's 2014 award-winning trilogy of novels, starting with Annihilation.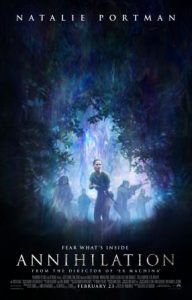 Synopsis
Lena, a biologist, and former soldier joins a mission to uncover what happened to her husband inside Area X – a sinister and mysterious phenomenon that is expanding across the American coastline. Once inside, the expedition discovers a world of mutated landscape and creatures, as dangerous as it is beautiful, that threatens both their lives and their sanity.
From visionary writer and director Alex Garland (Ex Machina, 28 Days Later) and based on the acclaimed best-selling Southern Reach Trilogy by Jeff VanderMeer, Annihilation stars Natalie Portman, Oscar Isaac, Jennifer Jason Leigh, Tessa Thompson, Gina Rodriguez and Tuva Novotny.

Director: Alex Garland
Cast: Natalie Portman, Jennifer Jason Leigh, Gina Rodriguez, Tessa Thompson, Tuva Novotny, and Oscar Isaac
Social Media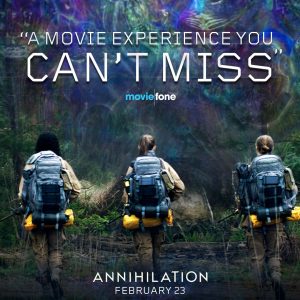 After watching the trailers I have definitely deemed this as a movie experience I can't miss. It has too many exciting and beautiful elements that cannot go unnoticed. Have you seen the Beautiful Shimmer and creatures that relic in the trailers? In honor of the New Movie
Annihilation
, I thought it would be fun to enclosed a recipe that would be the perfect food for venturing into the unknown (The Shimmer), something quick, easy, and a non-perishable food. Thanks to
Baking-Ginger
I was able to find a simple yet tasty recipe. It has all the perfect elements to keep one from going famish.
Ingredients
1 Cup Rolled Oats (use gluten-free if GF)
1 Cup Peanut Butter
1/2 Cup Choc-Chips (preferably dark chocolate or cocoa nibs if vegan)
1 tbsp Chia Seeds
1/4 Cup Honey/Agave Nectar
Instructions
Mix all the ingredients together.
Roll ingredients into balls.
Store in an airtight container in the fridge.
Devour
*We would love to hear what you type of food you would bring with you if you had to venture into the unknown*