Christmas Town For a Fun Family Night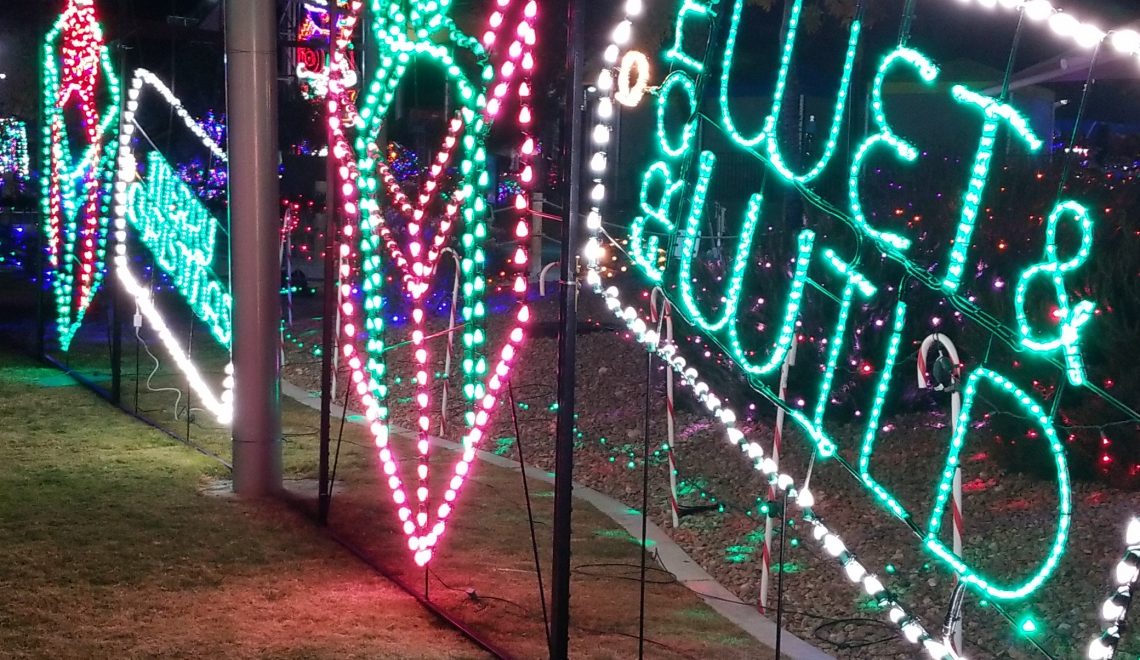 We love finding places around the Valley to celebrate Christmas and the end of the year holidays. Following a short break after Halloweenville, Wet N Wild now hosts another off season family fun center – This time, Las Vegas Christmas Town! They are open thru New Year's Eve and will only be closed 12/24 & 12/25 in observance of Christmas Eve and Day.
The second you step in, you are immersed in a winter wonderland with festive music, tons of colorful lights and all things that evoke Christmas and the holidays. You can even catch a few of your favorite winter characters like Olaf, elves and even Santa himself! Santa has a cottage so you can visit and take photos with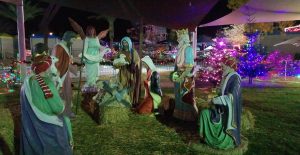 him. There is no charge to use your own phone for photos, but professional photos are available for purchase. Tons of photo opportunities throughout the park with thousands of lights, a 40 person train ride, a 40 foot tree and synchronized lights and music. There is even a life-sized nativity scene! I just wish it was lit properly because it was pretty cool…
A few things to remember before your visit:
The ticket window opens at 5p. If you purchase a Groupon ($15 vs the full $20) You should be able to go straight to the entrance. Bags are subject to security search upon entry.
It is getting colder and colder as the year comes to a close so please dress warmly, including hats and gloves as this entire experience is outdoors.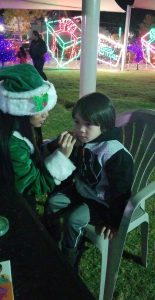 They have face painting included with your admission and the artist that night did such a great job with my son's snowman and wreath. I liked it so much I was inspired to tip her.
We did not enjoy the skating rink since it is not real ice, it is about the size of half of a basketball court, so it got crowded and we could not get used to the ill-fitting skates! We tried about three different pairs on my son, including some that looked similar to roller blades. He did not like any of them. We only went around one time, but we enjoyed watching others try it out!
The lines for the rides can take a little while so just be patient, everyone else is here to have fun too, and at least you can look around and appreciate all the decorations and of course, the music!
Frosty's Snow Ball Fun is a hybrid bounce house-ball pit of all snowballs. So cute…The kids always love the bounce houses and we could have spent the entire night just there, but I am glad we didn't miss out on a number of other attractions.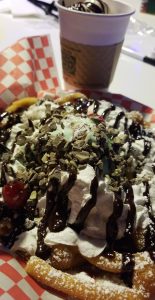 The only thing we wanted from the concession stand was hot chocolate and the seasonal funnel cake: mint chocolate chip. The gigantic, drizzled in chocolate marshmallows in my hot chocolate were perfect. Making the kids ice cream and funnel cake induced sugar high was probably not the best idea, but it kept them warm and fueled to run through the obstacle courses for about an hour.
The Jingle Bell Sledding Hill is super steep and extremely fast, which my son does not like, so we did not try it, but the music is always on point there and from all the squealing and giggles, you know everyone is having a blast!
Right beside the inner tube sledding, there is a walk-through 3D experience that was really cute. The little kids liked it so much (or wanted to put the 3D glasses on repeatedly) that we went through several times since there is no line. As you exit the short two-room attraction, you can see the snow falls right by there!
My favorite was Rudolph's Save Christmas Shoot Out, the paintball gallery. We almost forgot to try it and just before closing, we spent the last 30 min there. This requires purchase of paintballs, the best value being $20 for 200 paintballs. I will gladly buy them the next time we go – I want to shoot too! My son used all 100 paintballs himself and had a blast with every shot. The shooting gallery has Christmas trees lined up with ornaments to shoot and a well-padded (I hope) character creeping and laughing as you attempt to shoot him or her.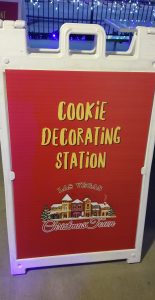 Ornament and cookie decorating requires additional purchase of ornaments and cookies, but all the decorating tools are available on tables beside the concession stand. I did not feel like standing in line for cookies so we tried the ornament decorating ($3). It is so cold out that it was hard to dry the glitter glue so I had to hold them all night – a terrible idea for the beginning of the night! They are cute little wood board ornaments, but we would likely skip that next time. We love the Tiny Tim train that is most suitable for five years and younger, but adults can squeeze in too.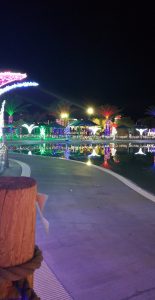 The wave pool is so pretty and still, like a winter lake view. I loved the cabanas decorated in spooky, horror scenes for Halloweenville and I was really hoping they would have made a little winter wonderland near the pool too. I kept thinking it would be similar to the Macy's department store windows in NYC.
As for the price point, I thought $20 per person seemed expensive (depending on how many people in your family) so I was glad to hear Groupon was available for $15. It did sell out that night we went so plan ahead! Overall, it is a great place if you love bounce houses, trains, holiday music and tons of lights. The rest is gravy!