May the Fourth be with YOU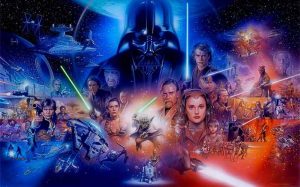 Is officially Star Wars Day as a day to celebrate Star Wars which was created by George Lucas. It is observed by fans young and old. Fans celebrate the day by re-watching the world-famous franchises movies or reading the comics.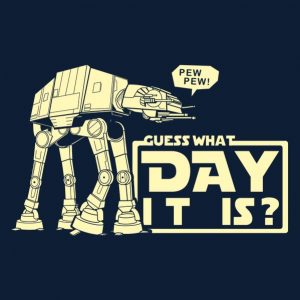 The date was chosen for the easy pun on the catchphrase May the Force be with you. In the movies the phrase is used to wish an individual good luck and that they would have favor with The Force.Although this is not an official holiday it is still celebrated by many Star Wars fans across the world and who can blame them.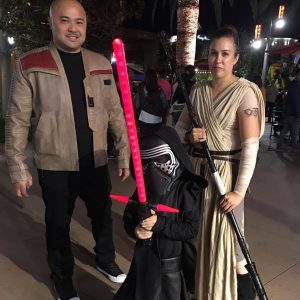 Even our family has grown to love the many adventures and wise words encouraged by the films.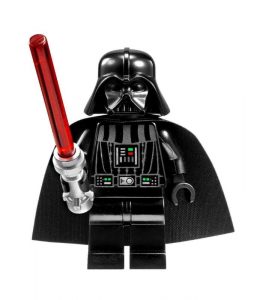 Thanks to Legos my five year old loves everything Star Wars. If you haven't I definitely recommend visiting the Lego Star Wars page for some awesome content.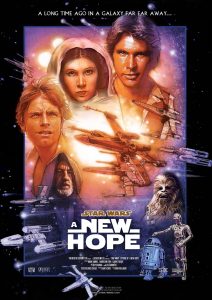 The franchise was launched back in 1977 with Star Wars: Episode IV – A New Hope, and quickly became a worldwide phenomenon branching out to release books, a television series, video games and comics.*
If your ever curious on what is The Best Way to Watch All The Star Wars Movies. I definitley recommend reading this article to help you decide.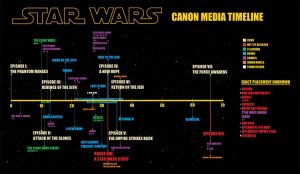 1. Star Wars: Episode I – The Phantom Menace (1999)
2. Star Wars: Episode II – Attack of the Clones (2002)
3. Star Wars: Episode III – Revenge of the Sith (2005)
4. Untitled Han Solo Star Wars Anthology Film (2018)
5. Rogue One: A Star Wars Story (2016)
6. Star Wars: Episode IV – A New Hope (1977)
7. Star Wars: Episode V – The Empire Strikes Back (1980)
8. Star Wars: Episode VI – Return of the Jedi (1983)
9. Star Wars: Episode VII – The Force Awakens (2015)
10. Star Wars: Episode VIII – The Last Jedi (coming in December 2017)
11. Star Wars: Episode XI – (coming in May 2019)
In celebration of May the Fourth, I purchased my son his first AT-AT. I did a lot of research and found Revell made some affordable Star Wars Kits. At first I was discouraged by the age recommendation. I decided to purchase it anyways with the intent of helping my son build the kits. I am so glad I purchased the Kit. It was very easy to build and the instructions and quality of the product was great. I plan on buying more kits to build with together with my son.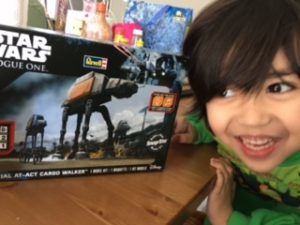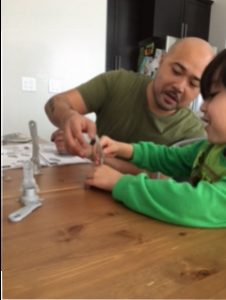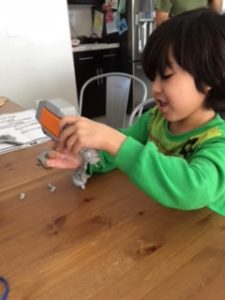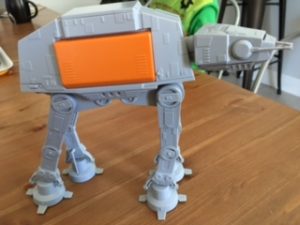 Please feel free to share your Star Wars Celebration. We would love to hear how you and your family celebrated the day. May the Force Always Be with You!