What No One Tells You About Being a New Mom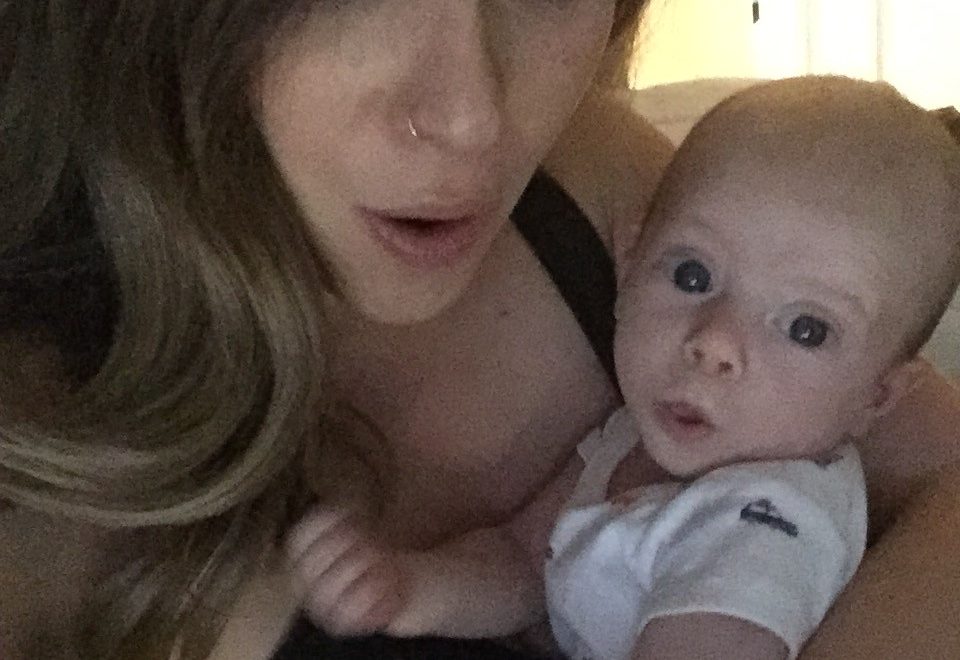 Hey ladies! So as you all know, I am a brand new mommy. I love everyday of it and all of the adventures it throws my way. Heck, as I sit here writing this and trying to breastfeed at the same time, all I can think about is all the things no one tells you about being a new mommy.
For example, no one ever told me that I would have my Mamaroo set up next to my toilet just so I can go to the bathroom without the baby crying! I have learned to even breastfeed while doing my business in the bathroom! (You all know you have too!!!)
Also, I have learned that dropping food on my child's head while cooking or eating is totally normal. Thank goodness for wraps and baby wearing or my family would starve, My child has had more veggies dropped on his poor head then I can count.
Let's talk about eating those amazing meals I have prepared while balancing a baby. I never knew I could eat so fast. Once little man smells food, he is awake and wants to eat. I have tried feeding him right before and to no avail, it never works. Which in turn leads to more food on his poor head.
Another really good one is how the first time you accidentally hurt your child, you will freak out! I was home alone and walking through a door and hit my child's head on the door jam! I called my mother crying and saying I was the worst mother alive. I was picturing CPS showing up at my door any minute and cried harder than my little guy did! Oh the drama!
The sleep thing is obvious and no one was kidding, but the first time you wake up mid-breastfeeding and don't even remember starting to breastfeed is a little startling! The first time it happened, I sat there, looked around and wondered how the heck I even got the Boppy, latched him on and fed without waking up. So bizarre. All in all, this is the most amazing thing I have done with my life and I am sure there are so many more adventures to come! Can't wait to share more!  Comment below and let me know some things that surprised you when learning to adapt to motherhood!
I also wanted to share this amazing recipe I discovered and made the other day! It was a huge hit and I am all about the healthy dishes! Please enjoy!
AVOCADO MAC N' CHEESE
Ingredients
10 oz of veggie pasta
1 clove of garlic
2-3 avocados peeled and pitted
2 tsp of fresh lime juice
salt and pepper to taste
2 tbsp of butter
2 tbsp. wheat flour
1 cup almond milk
2 cups of shredded lowfat cheddar cheese
Instructions
1. Bring large pot of water to a boil. Cook and drain pasta.  Set aside.
2. Combine garlic, avocados, lime juice in a food processor or blender and pulse until creamy. Season to taste with salt and pepper. Set aside.
3. In a small saucepan, melt butter over medium heat. Add flour and stir into the butter until it forms a paste. Whisk in the milk until smooth. Stir until it starts to thicken and then add the cheese slowly. Stir until melted and creamy.
4. Place the noodles in a large bowl. Add in avocado sauce and cheese sauce and stir to combine. Serve warm.