The HPV Vaccination: Important Information About Protecting Your Family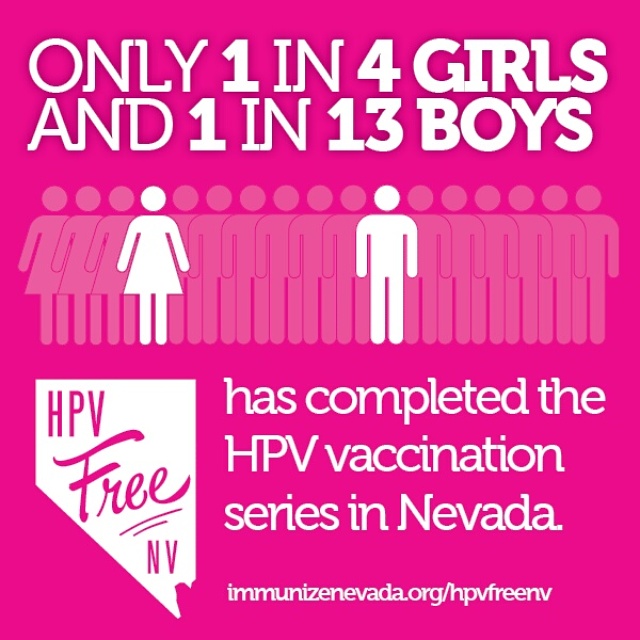 I'd like to talk with you today about helping prevent cancer in our kids as they get older. But before we can talk about some of those cancers, we have to talk about sex – even if we don't want to.  I mean, let's face it; it isn't always the most comfortable topic to even think about much less talk about.  Our society deems it okay for sexualized commercials, music and clothing to surround our kids; but our schools aren't allowed to give them evidence-based, factual education that will help them make smart choices, nor are they allowed access to the tools needed to make those smart choices? We are sending our kids mixed messages. And they know it.
As Executive Director of Immunize Nevada, a statewide 501c3 non-profit, I was recently asked to give a TEDx talk about preventing cancer through the human papillomavirus (HPV) vaccination.  I didn't want my own personal HPV story to be part of it. I didn't want it broadcasted to the world. I definitely didn't want to talk about sex. But as I thought about it and rehearsed, I realized that not telling my story — all of us parents not telling our stories — is one of the inherent problems with HPV vaccine uptake. It mirrors the way we approach anything related to sex here in the United States.
HPV is the most common sexually-transmitted infection in this country – so high that most parents today were probably infected at some point in their lives. You can't get it if someone sneezes on you, and you can't get it from eating contaminated food. You get it from skin to skin, sexual contact – something most of our children will do within their lifetime (even if they wait until marriage).
We need to be honest with ourselves and fellow moms about our own history with HPV, and we need to share our stories.
The conversation I had with my 12 year old son went something like this:
"You need to get a vaccine today."
"What's it for?"
"It prevents you from getting cancer."
"What kind of cancer?"
"Remember in the school program when you talked about the diseases you can get from sex? Some of those diseases can cause cancer."
"Yuk. I don't want to get cancer."
If you have a teen and you haven't vaccinated them, ask yourself why. Are you concerned about safety? Or are you really concerned it's giving them permission to have sex? Be honest with yourself about your concerns, and then get the facts. There are a lot of things we can't control as our teens become young adults, but we can prevent them from getting HPV associated cancers.
I wanted to share with you some common questions I get asked by parents regarding the HPV Vaccine:
Who should get the vaccine?
Routine HPV vaccination is recommended for boys and girls at 11 or 12 years of age. Vaccination at age 11 or 12 years is most effective because it provides the highest protection when given before exposure to HPV occurs. Catch-up vaccination is recommended through age 26 for those who did not previously complete the series. HPV vaccines are given in a three dose series over a six-month period. HPV vaccines do not contain live viruses and only uses a tiny piece of the virus, meaning the vaccine cannot give you HPV or cause cancer.
Is the HPV vaccination safe? How effective is it?
HPV vaccines are continually monitored for their safety and effectiveness. Since the vaccine was first released in 2006, health care providers have given millions of doses across the globe and no serious safety concerns have been found. All vaccines used in the U.S. are required to go through extensive safety testing before they are released to use. HPV vaccines are very effective. If the HPV vaccine series is completed and administered in the correct intervals it can provide nearly 100% protection from certain HPV types. HPV vaccines offer a promising approach to preventing cancer.
What are the side effects?
Some mild side effects can occur. The most common reaction is a sore arm where the injection was given. Swelling and redness can also occur at the injection site. Some other side effects include dizziness, fainting, nausea, and headache.  Fainting is a common reaction for any adolescent vaccine. To reduce the risk of injury, an adolescent should sit or lie down for 10-15 minutes after the vaccine is administered.
The HPV vaccine is cancer prevention. It prevents cancers that mostly occur in adults – so when thinking about vaccinating our 11-12 year olds, it's a hard concept to grasp.
Please check out this link for more information:  http://immunizenevada.org/hpvfreenv.  Mom-to-Mom, I encourage you to make an appointment today to speak with your healthcare provider about vaccinating your 11 or 12 year olds against HPV. It could help save their life.
~~~Connect with Immunize Nevada~~~
Immunize Nevada on Facebook   @ImmunizeNV     #HPVFreeNV
https://www.flickr.com/photos/immunizenevada
About the Author…Heidi Parker is Executive Director of Immunize Nevada
Heidi Parker, Executive Director of Immunize Nevada
As executive director of Immunize Nevada, Heidi Parker leads and engages a diverse coalition of staff, volunteers, member organizations and funders so they are passionate about vaccines and access to preventive health care across Nevada's rural, urban and frontier communities. Bringing 19 years of experience in nonprofit program management, fundraising and marketing, she has dedicated her career to being able to affect her community in a positive way, whether working with Head Start families, victims of violence, college students or Nevadans needing immunizations.
Under her leadership, Immunize Nevada is deeply involved in community outreach, collaborative projects and fundraising efforts aimed at helping close the vaccination gap that Nevada faces. Heidi lost her best friend to Hepatitis when she was in elementary school and her great-grandfather died in the Influenza Pandemic of 1918. These personal and family losses drive her motivation to ensure that no one suffers from a vaccine-preventable disease, and that vaccines continue to have an influential voice.
Heidi has earned numerous awards for her commitment to community involvement, including the Reno Gazette Journal's Twenty under 40 award and has presented at a variety of regional and national conferences, including the Centers for Disease Control and Prevention's (CDC) National Immunization Conference. Heidi is a 2nd generation DePaul Blue Demon and received her Master of Arts degree from Southern Illinois University-Edwardsville. She is also a recent graduate of Duke University's Executive Nonprofit Leadership program.