Boo-Yah! Stuart Scott, You Will Be Missed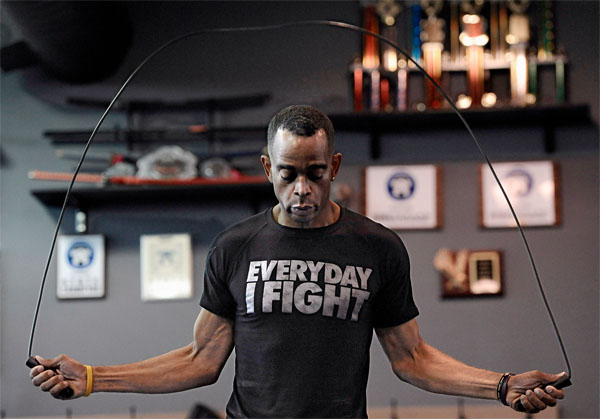 A legend passed away this week. Mr. Stuart Scott is likely best known for being the face of SportsCenter and his one-of-a-kind way of delivering sports news. He was the voice of many a highlight reel even though it never occurred to me that his sportscasting style was ground-breaking or cutting edge.
He became a part of the ESPN family more than 20 years ago…Stuart Scott's handsome face and hilarious catch phrases were a permanent fixture in my home for many years. I decided it was all too depressing to always hear bad new, or about tragic accidents covered by the local or national news. I would much rather listen to who won what game, who beat the odds or broke records or who was being honored. Besides, if there was major news that affected the world, SportsCenter would cover it. It was my favorite show and Stuart Scott was easily my favorite sports anchor. I watched it repeatedly throughout the day: early mornings, late nights, afternoons, you name it – I had it on! My TV was my alarm clock and had a handy sleep timer so I literally watched it first thing in the morning and it was the last show on at night. To me, Stuart was funny and made watching news fun and interesting. He set up the highlight reels so you felt the excitement of actually being there. It was like hanging out with your friend who giving you a play by play of a game. At the time, I did not appreciate this for how out-of-the-box it was. I look back now not realizing Stuart Scott was just starting his career when I became an avid fan of his show. I just figured I was late to discover him! The fact that his familiar face was still there through the past two decades only validates my belief that news people just moved around from show to show. There was no retiring or quitting! Stuart is the kind of guy that I could see walking down the street one day and I would look at him and greet him like an old friend. Only I have never met him. Have you ever done that to a celebrity?! You recognize their face so you feel like you know them – So you say Hello! How have you been?! Like a neighbor come home from an extended vacation. That is the kind of impact he had on his audience. This is how I will remember him:
NYpost.com – Top 10 Stuart Scott SportsCenter Commercials
In recent years, he inspired so many friends, colleagues and otherwise complete strangers by his valiant battle with cancer.
Diagnosed in 2007 and never wanted to know what stage his cancer was. He just resolved to fight. For his fans, for his family, for his two gorgeous daughters and his girlfriend. He was honored just a few months ago at the ESPY Awards, receiving the Jimmy V Perseverance Award. Watch the award presentation and his acceptance speech here. Please have tissues available…a lot of them.
My favorite quote from this speech (9:45), "When you die it does not mean that you lose to cancer, you beat cancer by how you live, why you live and in the manner in which you live."
Videos by his ESPN family and broadcast highlights:
Articles about Stuart Scott:
Sports headlines used Stuart Scott Catch Phrases in tribute
He lived, loved and inspired in such a short 49 years of life. His daughters can be so proud to have a dad who was such a hero to so many who never even met him. We can all learn from such a bright light who blazed a trail for so many to follow. May you Rest in Peace!