Movies and Candy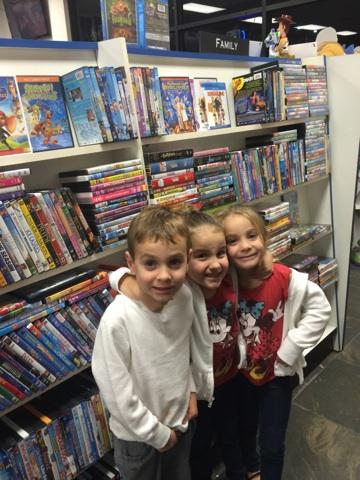 There is this great place in Henderson called Movies and Candy! This place is probably the last of it's kind, it is a movie rental and candy store. I ended up going into this place one day when I was trying to kill some time before my kids' swim class started. It happens to be in the same shopping center. At first I thought I would just look around and maybe grab each of the kids a candy to be nice. But soon I found myself having a great time strolling down memory lane while finding all these great movies I had totally forgotten about. It didn't take long before I decided to rent one of the movies. I decided it was time to turn my kids on to Star Wars! We ended up watching the complete Star Wars saga and the kids are now complete Star Wars fans.
Renting movies from Movies and Candy has become a regular thing for our family. We all look forward to the hunt for a great classic. The man that works the front desk is actually very helpful. I truly think he might have seen every movie that has ever been made and is great at suggesting movies that are awesome but that you might have forgotten about. And of course my kids love all the candy. They have all kinds of candy, including all of my childhood faves.
I guess I had forgotten how cool it was to walk through a Movie rental store and hunt for the night's entertainment. I am super happy I found this place.  They also rent TV series and cable series. This would have majorly came in handy back when I was on my Walking Dead kick. The few
days it would take Netflix to mail me a DVD sometimes was almost more than I could bare! If only I would have known that I could have just rented it and saved myself the agony of waiting to see if my favorite character survived a zombie attack.  One more cool thing they have there is a movie room. They rent out the room for parties. This is super great for kids parties or even girls night out with a fun chick flick. So if you are looking for a little flash back fun check this place out! You might just see how much you miss these kind of places like I did.