Halloween Treats, No Tricks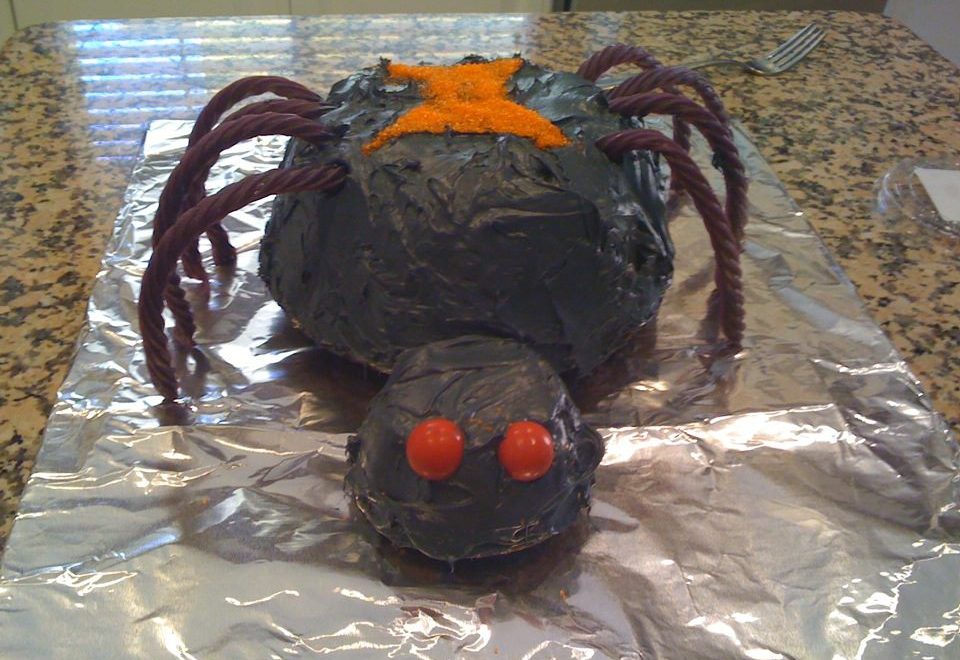 Candy corn and fun-size candy bars aren't the only Halloween treats. Homemade Halloween-themed snacks are easier than you think. You can easily take familiar favorites and give them a twisted presentation for a horror-infused buffet. Let your imagination ooze to the dark side.
Spider Cake
Bake: Prepare cake batter using your favorite cake recipe or mix.
For the spider body, bake batter in an oven-safe glass mixing bowl. It will take longer to bake the batter in bowl than a cake pan, so watch carefully. It is done when a wooden skewer inserted into the middle comes out clean. Cool slightly before removing cake from bowl onto a cooling rack.
For the head, bake batter in a cupcake tin. (If there is leftover batter, bake more cupcakes.)
Assemble: Use a wooden skewer to attach the cupcake "head" to the larger "body." Place on a serving plate, or a foil-covered cake base.
Decorate: Frost cake with gray or black frosting, which can be found in baking supply stores or craft stores (e.g. JoAnn). You can also use black food coloring to color vanilla frosting.
Alternately, chocolate frosting can be used.
For the eyes, use candies such as Atomic Fire Balls or Dots.
For the legs, position eight pieces of your favorite flavor of licorice.
If you desire, decorate the spider body by making a stencil out of cardstock. Sprinkle crystallized sugar over the stencil. Lift cardstock up carefully.
**Be careful not to offer this cake to people with arachnophobia.
New Twists on Familiar Favorites
The food is easy, the presentation scary.
Popcorn. Stuff popcorn into food-service gloves for individual servings. Tie the wrist end with ribbon. For an extra snap, place a Hot Tamale candy in the tip of each glove finger.
Cookie-Cutter Snacks. Cutting cookies into holiday-themed shapes makes them that more festive, Try it for unexpected foods, too. Use Halloween cookie cutters to make bat shaped pizza or pumpkin shaped cheese slices.
Rice Krispies Treats. (Recipe here.) Add drops of green and yellow food coloring to the melted butter-marshmallow mixture to create a sickly hue. After the treats have been cut into squares, arrange on a plate. Decorate with gummy worms and sprinkle with crushed chocolate cookies to make "dirt."
What's in a Name?
It's amazing how changing the name of a food changes your experience. (Like "escargot" sounds exotic, while "snails" sounds…eww.) Place menu cards on the serving table to set the mood.
Crunchy Cheetos = Witches' Fingers
Red Velvet Cupcakes = Bloody Cakes
Chili = Ogre Vomit
You get the picture.
I Vant to Drink Your Blood
Little ghosts and goblins can work up quite a thirst wreaking terror in the neighborhood. Quench it with this easy drink, which is delightfully bloody and infiltrated with creepy-crawlies:
Start with Creepy Ice Cubes: Pour lemon-lime soda into ice cube trays. Add a gummy worm or other gross gummy to each cube compartment. Freeze until solid.
Strawberry Puree: Thaw a bag of frozen strawberries. Puree in blender, adding sugar to taste. (For a 20-oz bag of fruit, use about ¼ cup of sugar.) Add lemon juice to taste, if you wish.
Assemble: Place a few ice cubes in a glass. Fill with lemon-lime or other light-colored soda. Dip a straw into strawberry puree. Cover the end of the straw with your finger to draw puree up into the straw. Drip small amounts of the puree into the glasses of soda and serve. Do not stir up the "blood."