Halloween Party Activities for Kids (and Adults, too)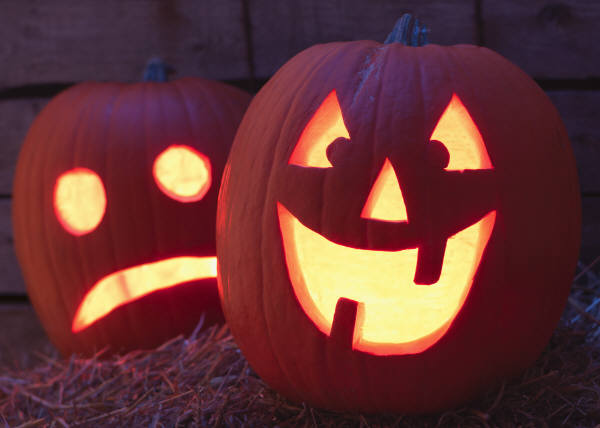 When you think of Halloween, what's the first thing that comes to mind? If it's trick or treating, you're not alone. Luckily, Halloween's scary fun lends itself to a variety of activities for all ages.
Here are a few fun activities for your holiday party. Some are variations on old (but not yet mummified) traditional games. Super easy and fun.
Spooky Bowling 
You will need:
10 water bottles
food coloring
Halloween stickers
glitter glue
Halloween favors (small enough to fit in bottles)
mini pumpkin
For the bowling pins, use bottles of water with the labels removed. Add a few drops of food coloring to the water; orange is a great choice. Decorate the bottles inside and out with Halloween-themed stickers, glitter, or any other decorative items you wish. Place small party favors inside the bottle water. Use a mini pumpkin as the bowling ball.
Eyeball Race
You will need:
drinking straws
ping pong balls (ready-made ping pong eyeballs are available from Party City)
permanent markers to decorate ping pong balls like eyeballs (if needed)
Have children line up on one end of room, each with a ping pong eyeball and a straw. On hands and knees, kids blow through the straw to make the ping pong balls move. First one to the finish line wins.

Witch Hat Ring Toss 
You will need:
3 costume witch hats
plastic rings
Set hats on floor in varying distances, and assign points based on how far away the hat is: 5, 10, or 15 points. Players take turns tossing rings to see who has the best aim and highest score.
Cookie Decorating
You will need:
plain sugar cookies
orange and white frosting
orange and black decorator icing
colored sugar and sprinkles
candy corn
gummy worms or body-part gummy candies (check out your local party store, or Oriental Trading Company).
This is a treat and activity all in one. Provide the supplies for each child to be creative and decorate his or her own cookies.
Scary Movie, Scary Food
Don't forget, adults like Halloween parties, too. You choose the scary movie, and let your guests bring the scary food. It's open to interpretation, which is much of the fun. Sometimes the interpretation is literal, like a shark-infested jello ring. Sometimes it's not – potted meat, anyone?