Mt. Charleston: A Quick Escape From The Desert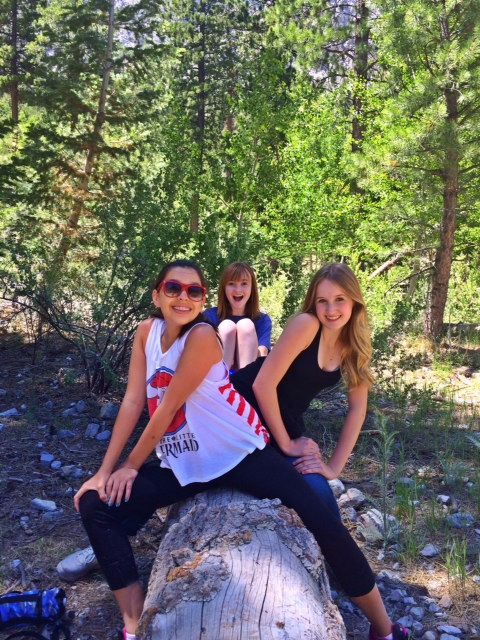 On my quest to give my daughter a great summer I decided to do something a little different and take her and her friends to the mountains.  Mount Charleston is only about 45 minutes from the Las Vegas Strip and it is beautiful! It is a complete change from the desert, there is hiking and even little waterfalls if you dare to hike the trails. We started off the day at a cute restaurant at Mount Charleston Lodge.
The restaurant has a ski lodge feel to it with a large patio area overlooking the breathtaking mountain views. The food is actually very good! The menu consists mostly of bar or diner type food, but very tasty.
Afterwards, I took the girls to a nice little area that  we could walk around and explore a little . To my surprise, I quickly saw the cell phones put away as the girls started hiking around. They were so cute! They were acting the way kids are supposed to act: throwing rocks, climbing on fallen logs, and collecting pine cones. It was so nice to see them just have fun without needing to check their social media sites.

After a while, we decided to go home but as I was driving down the mountain I saw firemen hosing down some trees. I quickly pulled over and asked my daughter to ask if they would hose them down too. The firemen said yes and the girls jumped out of the car and ran into the forest as the firemen squirted them. It was so funny because the farther the girls ran the firemen would just adjust the hose and keep wetting them! They were screaming and laughing the whole time. All the girls ended up being soaked but had a great experience.
It was so nice to drive back home and hear the girls talk about how much fun they had and that the didn't expect a day at Mount Charleston to be so much fun. This is a great way to get some fresh air and escape our extreme summer heat! Tell me your favorite story of a Mount Charleston visit!