Homemade Yogurt Recipe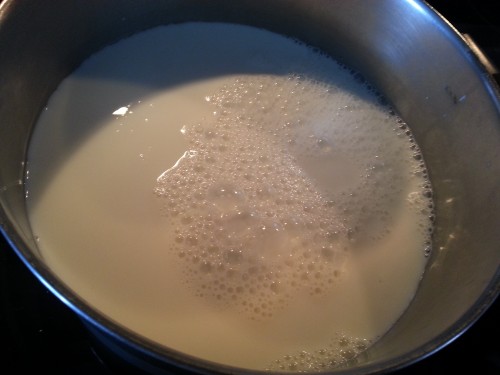 Wow! I can't believe how easy, tasty, and economical it is to make your own yogurt! Having a family of five makes you find ways to stretch your dollar. So it makes sense to save in the kitchen, eat healthy, and it is especially satisfying to control the quality of ingredients that ultimately make up my delicious yogurt. Hope you enjoy mamas!
YOGURT RECIPE
Ingredients:
1 quart whole milk, nonfat, lowfat or unsweetened soy milk
1/4 cup plain whole milk yogurt, has to have the live and active cultures
Warm up your oven til it reaches 145 degrees, then turn it off
In a large pot heat the milk until it reaches 180 degrees, I used a stable read thermometer, like the polder. Remove from heat so it can cool, keeping the thermometer in the pot.
Once the temperature drops to 115 degrees, stir in the yogurt until it's thoroughly incorporated.
Cover the pot and place it in the oven and leave it undisturbed for 10 to 12 hours. I put a towel over it and closed the oven. (I like a thicker and tangier yogurt so I let the yogurt sit an additional 3 to 5 hours)
Refrigerate yogurt for at least 3 hours before eating.
If you want, you can make it into greek yogurt by straining it with a cheesecloth, bouillon strainer, or a yogurt cheese strainer for 2-3 hours in the refrigerator or how thick you want it to be (I spooned the yogurt into the yogurt cheese strainer because it's easy, less messy and I like to use the other homemade yogurt to put in my green smoothies, homemade frozen yogurt, or put in my mashed potatoes). Then you can use the excess liquid (whey) to put in your smoothies or fermented vegetables.   You can reserve 1/4 cup of your homemade yogurt to start a new batch.
CREDIT: Thanks to one of my favorite fitness healthy real foods advocate instagrammers @fitalicious_me for sharing this recipe!