~*GIVEAWAY*~Kindermusik With Miss Dedra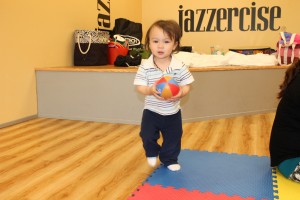 Are you looking for a great way to socialize your toddler and connect with other moms at the same time? Do you want to see your little one engaged and attentive and LEARNING?! Kindermusik is the answer!!! I have the pleasure of coming to know Miss Dedra – a pure talent in the Kindermusik movement. She is truly gifted in the world of music as well as with kids! She has been teaching piano since the ripe old age of 14 and became a Licensed Kindermusik Educator a mere 3 years later enabling her to open her first music studio in Wisconsin. Talk about accomplished! She obtained a BA in Music with an emphasis in Piano Pedagogy so rest assured, you are in very capable hands! I walked into the studio, unsure of what to expect. I know my son is quite musical, showing interest in all instruments as noise-making is a big hit with most toddlers! J claps when people finish singing or dancing so I know he gets it. He is sweet enough to ask for "more" when I finish a made up lullaby for him while he nurses. I was so excited to see how he fared in our first Kindermusik class. There are normally 5-6 other children attending class with their moms and occasionally siblings are present as well. It is a bit intimidating to walk in not having met anyone beforehand. Lucky for me, I brought a couple of mom friends so it was not as nerve-wracking, but then there is always the fear J may not interact or maybe he is nearing nap time so he will be fussy. Let me tell you, the intimidation was completely in my head as these were the NICEST moms I've met in an infant/toddler class ever! I have taken J to countless mommy and me type classes since he was just a few months old and by far, I have never felt more welcomed than when I took him to Kindermusik class. We attended a Wiggle & Grow class (2-3yrs) and a Sing & Play class (0-24 months). The other moms were all very sweet, very supportive and surprisingly encouraging even when J didn't want to follow along. He was interested as he always is, in other kids and his surroundings, but he was still a little shy. My friend's daughter (2) was completely enthralled by every activity presented. She took to Kindermusik like a fish to water. It was an utter joy to watch her enjoy class.


All the kids are enamored with Miss Dedra as she remembers everyone's name and focuses intently on you with a soothing, kind voice. She starts class by welcoming each child with a personalized movement of their own. It is a sweet and fun way to learn everyone's name. Varying sounds and tempo are used and even cleaning up has musical accompaniment. There is a lot of dancing and use of studio space. The simple touch and feel of different instruments and unique sounds they create keeps little minds focused. Kids trying out different movements and wiggling about also encourages moms to get moving too! I enjoyed this since I love being silly with my son and expanding his movement repertoire. I want him to know that his little body can do amazing and magical things, so dancing is a great way to do this. Songs we sing are catchy and easy to learn so moms (and dads!) who worry about how sound will be happy to know that if you can sing Happy Birthday, you are in!

Signing up for classes also grants access to Kindermusik@Home for supportive media materials to download at home in between classes! Reinforcing lessons learned and using interactive methods with your little one will help familiarize you both the curriculum. I highly recommend attending classes regularly as this is the best way for your son and/or daughter to be comfortable more quickly and really get the most out of your time with Miss Dedra. Getting to know the other kids, the cadence of the class, the other moms and your teacher only lends to an enjoyable experience for everyone. It really makes a difference when J sees other kids he knows. He remembers other kids and his face lights up when I prepare for our day and ask him if he wants to play with specific friends. Our mission at Las Vegas Moms Blog is to connect moms to each other and I have to say, Kindermusik has my vote for the most welcoming moms on the block! 
Thank you, Miss Dedra for an awesome experience. Thank you for being such a shining light in the music world and for sharing with us such a nice group of moms and their kids. It is so important for our little ones to include sensory play whenever possible and you are making it happen – Bravo!
Who would like to meet Miss Dedra and introduce your little one to a multi-sensory experience through Kindermusik?!
We are giving away an entire month of classes (1 class per week) You really cannot miss this opportunity…
Please like Miss Dedra on Facebook, Follow her on Twitter & check out her website too www.musicwithmissdedra.com
HINT: You also need to follow us and like us to qualify for the giveaway! 😉 
~~~~~~~~~~~~~~~~~~~~~~~~~~~~~~~~~~~~~~~~~~~~~~~~~~~~~~~~~~~~~~~~~~
Click the link below to enter to win 1 month of Kindermusik classes with Miss Dedra!!!
a Rafflecopter giveaway