Healthy food (Yuck)!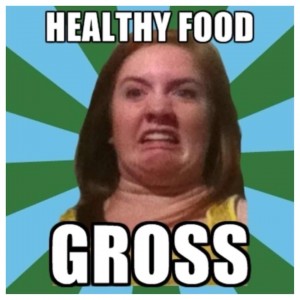 I hate healthy food! The truth is, I think the majority of Americans hate healthy food too. If this was not true we wouldn't have so many people struggling  with obesity . In fact, nearly one-third of all Americas are considered obese*.  Now this being said, I totally understand why: most healthy food taste like poop (at least to me it does)! So I have been on a quest to find healthy food that tastes 'great' or at least 'good'. I will be posting a weekly product review with my honest opinion. I will not lead my fellow non-healthy food lovers astray!  What I mean by that is, there are these crazy health nuts out there who somehow like the stuff. If fact, I have this friend who loves the nastiest of healthy food. She truly hates the taste of anything that is not healthy, even donuts! Who hates donuts? So if you see something that you would like me to review, please let me know! I am hoping to help us all by finding great tasting healthy products.
Then, we can challenge ourselves to get into our food pantries and start taking out the 'bad for us' stuff and replace it with the 'good for us' stuff! I have been on this quest for a few years now so I already know of a lot of edible healthy food products that I will start sharing with you all right away!! Let's get healthy together!
It really is so important to live a healthy lifestyle. Not only is it good for us, but it is a must for our children. It's a way we can show them how much we love them. Feeding our kids the best foods helps them feel great, helps their bodies function properly & helps them to achieve a better quality of sleep too! When we fill their bodies up with good things we are also setting them up with healthy habits they can carry all through there lives and pass down to our grandchildren too. Let's do this!