*disclosure: we received these toys for free in exchange for an honest review*
Kawaii Cubes Nesters really make a "Cute" toy that you will want to collect and just maybe let the little ones play with. With the market producing so many new collectibles, you can't help but take notice with these latest affordable creations. Especially since their first series features DC Comics characters which makes it especially awesome since they finally started expanding and producing more than just Batman movies. I don't know about you, but I am geeking out! With the Justice League finally making their debut on the big screen you have to be excited. I personally can't wait for Wonder Woman's new movie coming out soon!
Our household really enjoyed the details and the concept of nesting toys. WishLand took the DC Characters and really added some creativity in each cube making it fun to collect. You have a chance to collect Classic Style, Pop Art Style, and limited edition Metallic Style. My son's favorite feature in the package was the blind boxes (My son loves the mystery behind each box – you just never know what you'll get) and each package contained one blind box. He was really excited to open them! I can easily see a lot of creative fun ways to play with these toys besides just stacking them.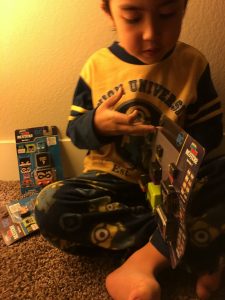 Here's some of my son's favorite ways to play so far:
1. You can hide little things inside, like small toys or candy
2. You can stack them up like a wall to knock down with your cars/action heroes
3. You can put them on your kids table for creative play (ex:Train Table)
4. You can change your characters bottoms and create your own mashup character
5. You can use the small one to roll them and knock down your bigger character cube (small ones feel like dice)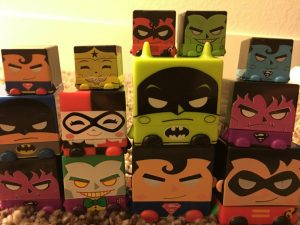 Let your imagination go wild! I know we did at our house. We literally put them to the test and they can withstand a lot of toddler wear and play. I would definitely recommend buying these toys for your little ones. (Please exercise caution as the pieces may not be suitable for those under 3 years of age.) They're easy to open and close without and can easily translate to hours of fun for little kids and big kids too!
With Christmas around the corner, these would make excellent gifts: Perfect for Stocking Stuffers!
You can find Kawaii Cubes Nesters in-store at a Target near you.