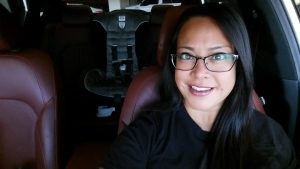 What I love about the Kia Optima Turbo… Where do I begin?! Let me just start by saying that I would not have thought to test drive a Kia before this opportunity. You can check all the specs of the Kia Optima online, but here we are going to discuss the look and feel of the car as a day to day driver. These are the details you want to know before you buy! There are a number of well-known car makers that will always be at the forefront of any vehicle search. Of course there is criteria to consider (2-door, 4-door…hybrid, SUV, etc.), but my search would always start off with brands I have known my whole life. Believe it or not, Kia was not one of them… Until now…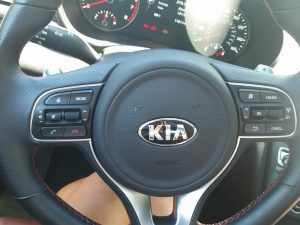 I was really surprised and impressed right from the start! The romance began with that amazing new car smell to draw me right in. Who doesn't love the smell of new leather?! The car I received for the test drive is a gorgeous
pearlized white
paired perfectly with the sporty, glam look of
merlot leather interior
. Yes, that is what struck me first! Despite having a car seat strapped in the center of the back seat, I still felt like I was behind the wheel of a sports car.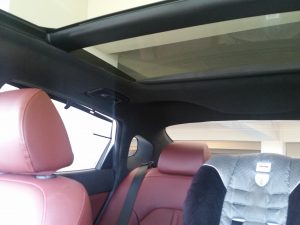 The
Kia Optima Turbo
is quite the looker with its aerodynamic design, red wheels and
panoramic sunroof/moonroof
. I was especially surprised about its get up and go. Well, being a Turbo edition should have clued me in! I was very happy with the handling as I have noted even nice, high end cars do not always have the turn radius I think they should. I have owned cars with strong engines including a '71 Mustang, a BMW, a Chrysler 300, and a Porsche Cayenne, so I'm no stranger to cars with power! I love the innovation of
automated deceleration
as there are some sharp turns in the Valley! I could feel the output drop when I would be taking a turn like a clover leaf freeway ramp. In addition, while in traffic, if someone were to enter my lane too closely ahead of me, there was instant reaction by the vehicle. So cool! I felt super safe at all times. With my son,
safety
is the absolute top priority.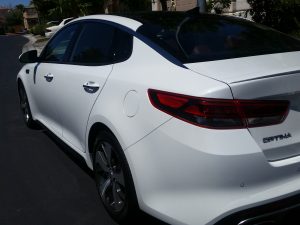 Speaking of safety,
back up sensors
are so key – in addition to notification for stationary objects you may bump into, there is also a sensor to alert you if a car is passing behind you, crossing your path as you back up from a parking space, for example. There are back up cameras too, which I love, but having work in the insurance industry in a former life, I still check every corner and move at a snail's pace in parking lot situations and especially when in reverse. The center dashboard screen for the
back up cameras
is a must, especially since we have a neighbor kid who wanders out of the house often. I live in a cul-de-sac and so I have that false sense of security that I am only a few doors from the end of the block so no one should be passing behind the car, right?! Wrong! I have looked back to see a little face standing not too far from the end of our driveway. It is truly a frightening sight! I would never want anyone to be hurt and back up cameras are so helpful as an additional precaution, and at night, it is a no brainer…not to mention the help while backing into a space or illuminating your path at night!
More
AWESOME PERKS
include that gorgeous
panoramic sunroof/moon roof
. At night, we could see the stars and the moon while daytime meant watching planes traverse our gorgeous blue skies. I normally drive an SUV and switching to a car may feel like I am downsizing. I did not feel that way at all! In fact, feeling cramped is not an issue when you can practically peel open the entire top of the Kia Optima Turbo! You are wired and ready for
Sirius XM radio
so you will never have a loss for listening options. The Bluetooth for
hands-free dialing
was extremely easy to set up and the sound quality on both ends of phone calls was stellar. No problems, no delays in sound, it was a breeze. I like that I could use GPS from my phone or use the
GPS navigation
. I prefer using my phone's GPS since I have a lot of saved addresses right at my finger tips, but having both options is really nice. Radio and call options are also easily accessible from the
steering wheel
so distractions are kept to a minimum. It's a
Harman Kardon
too – BTW, for the audio nerds reading this!
*insert secret handshake here*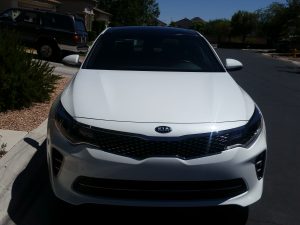 There's a
push button start
which is beyond brilliant. You don't have to worry about losing your key either! I always have a latch for my keys. With the
keyless entry system
, I just latch my keys onto my purse and as soon as I'm near the car door, it unlocks! I never unlatch my keys! It is a small detail, but if (like me!) you are notorious for misplacing keys or locking yourself out of the car (most recently, the wind shut my car door behind me while I placed my purse on my seat to throw a sweater on!), you will appreciate this detail.
Cup holders for everyone! Not only are there cup holders in the center console, but in every door – Keep hydrated, my friends! I also love that there is a seat warmer/cooler and a way to save the seat settings so when you valet, or if your honey drives, you don't have to get in and reset everything. There is a USB connection and multiple charging outlets (does anyone still refer to them as cigarette lighters?!) including a couple in the back of the center console/arm rest so your back seat passengers will not have to share or wait their turn. My son loved having his own 'personal wind' for dedicated air flow. two separate vents to aim in different directions. There are also shades on the back windows to keep your toddler from having a complete meltdown because the sun is shining on them. Spoiled, much?!
If anyone is looking into a new car, you absolutely have to try the Kia Optima Turbo. They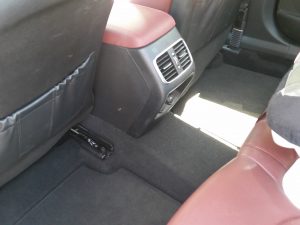 really did blow me away with this test drive. Like I said, you could still feel like you are driving a sports car with plenty of leg room for multiple passengers and car seats! I took a trip to Costco and even took a friend to the airport so you know there is
TONS
of
trunk space
too so load up and take a road trip in your new ride…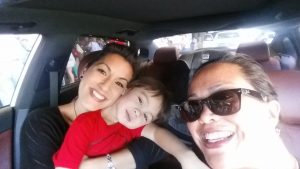 *~*~* They have ongoing deals right now!!! *~*~*